Party General Secretary Nong Duc Manh urged northern mountainous Bac Kan province to prioritize the development of agriculture and forestry sectors as well as processing, mining, and tourism industries in a move to narrow the development gap with other localities.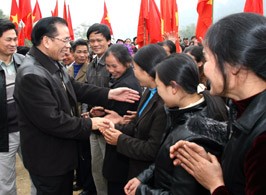 Party General Secretary Nong Duc Manh (L) shakes hands with the people in Bac Kan province on Dec 30

With the priority policy, the province can make the best use of its abundant resources of minerals and forest products as well as scenic landscapes, the Party chief said during his three-day working visit to Bac Kan from Dec. 30.

"Bac Kan should identify its strength and utilize it for sustainable economic growth," General Secretary Manh emphasized.

He added that while concentrating on developing infrastructure and commodities economy, Bac Kan should work with neighboring localities to develop the whole northern mountainous region.

The Party Chief urged provincial leaders to pay due attention to education and training and consider it as a decisive factor in boosting socio-economic development and reducing poverty in the location.

Despite registering an average economic growth rate of 11.05 percent between 2001 and 2006, Bac Kan remains one of the country's less-developed localities with poor households accounting for 50.8 percent in 2005 (according to new poverty criterion).

Party Chief Manh also pledged to instruct central agencies and branches to work out special and proper policies to help Bac Kan and northern mountainous provinces with difficulties develop on a par with other localities.

However, while awaiting the State priority policies, "Bac Kan and other northern mountainous localities should be active in exploring their potential for development," Party Chief Manh stressed.