The Vietnamese Party, State and people have always attached a high level of importance to the development of its relationship with China.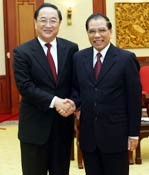 Party General Secretary Nong Duc Manh (R) shakes hands with Mr. Yu Zengsheng in Ha Noi on Sep 13

Party General Secretary Nong Duc Manh made the affirmation while receiving Yu Zhengsheng, member of the Political Bureau of the Communist Party of China (CPC) Central Committee, and secretary of the Hubei Provincial Party Committee, in Ha Noi on Thursday.

General Secretary Manh congratulated the CPC and Chinese public for its outstanding success to date and thanked to support of the Chinese Party, State and people for its aid to Viet Nam.

The Chinese Party official meanwhile stated that China would also make increased efforts to further develop the Viet Nam-China comprehensive relationship.

During the day, Comrade Yu Zhengsheng met with Pham Quang Nghi, Politburo member and secretary of the Ha Noi Party Committee.

The two sides discussed measures to enhance the relationship between the two localities.