More than 4,000 offenders who repented their crimes while serving prison sentences are expected to be granted amnesty this year.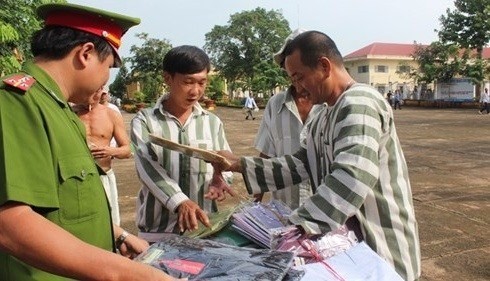 llustrative image. (Photo: tapchigiaothong.vn)
This was announced on November 27 at a meeting of the Amnesty Consultancy Council, which approved the list of offenders proposed for the President's amnesty decision.
Speaking at the meeting, Deputy Prime Minister and Chairman of the Amnesty Consultancy Council Truong Hoa Binh said the amnesty policy reflected the nation's humanitarian tradition.
Vietnam is strict towards repeat of offenders and dangerous ones, but also tolerant and forgiving towards those repenting while serving their sentences, performing their duties to the best of their abilities and contributing to the efficiency of the national crime prevention programme, said Binh.
The law provides for favourable conditions for the reintegration of released inmates into society, he said.
Deputy PM Binh asked relevant ministries to ensure that the amnesty decisions are implemented seriously, transparently and in accordance with State regulations.
He emphasised that authorities at different levels should help amnesty recipients stabilise their lives and eliminate discrimination against them.
Since 2009, a total of 81,795 prisoners have received early release and 919 others given reprieves of their sentences.
Although the number of people receiving amnesty is large, the nation's political security and social public order is table, officials said.
The rate of prisoners given amnesty who recidivated was low. For example, six months after 2015's amnesty release, 83 former prisoners returned to crime, a rate of 0.44 percent out of the 18,537 granted amnesty that year.
Vietnam typically grants amnesty to prisoners on major national holidays, including the Lunar New Year (Tet) and Reunification Day.