Vietnamese President Nguyen Minh Triet has agreed to grant amnesty to 17,520 prisoners on the occasion of the National Day, September 2.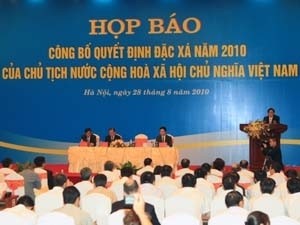 The press briefing to announce amnesty to more than 17,000 prisoners on August 28
The President's decision was made public on Aug. 28 at a press briefing which brought together reporters from many local and foreign newspapers and news agencies and representatives of foreign diplomatic corps in Vietnam.
The amnesty recipients include 17,210 prisoners who are serving their jail terms and 310 offenders with prison terms being cancelled or temporarily suspended who are eligible for the amnesty, said the State President Office.
Among those, there are 20 offenders who had been convicted on the charge of "infringing upon national security" and 37 inmates who hold foreign nationalities, including China, Laos, Cambodia and others.
Giang Son, Deputy Director of the State Office, noted that the President's amnesty decision once again constitutes and affirms the Party and State's policy of clemency for those offenders who have shown repentance, encouraging them to redeem themselves to become useful citizens.
He stressed that every punishment that the State has given out in line with its penal code aims to not only reprimand law-breakers but also re-educate them to become useful citizens with a sense of abiding by the law and code of conducts in society as well as prevent them from committing crimes again.
Son cited the fact that almost all those granted with amnesty over the past years have quickly re-integrated back into the community. Many of them have become successful and enthusiastically participated in the fight against crimes and charitable activities.
Regarding the post-amnesty work, Deputy Minister of Public Security Sen. Lieut. Gen. Le The Tiem said the Prime Minister has already instructed local authorities to assist the former prisoners to reintegrate into the community.
As many as 114,913 prisoners have been released ahead of time as the result of the previous ten times of amnesty with many of them becoming businesspeople and setting up funds to assist those who are in similar situation with them, said Tiem.
He said all prisons and detention camps nationwide will begin enforcing the amnesty decision in the morning of August 29.