Le Hoang Quan, Chairman of the People's Committee of Ho Chi Minh City, on Monday instructed the Department of Natural Resources and Environment to immediately suspend operations of Hao Duong Leather Tanning Joint Stock Company for violating environmental regulations, according to a reliable source from the People's Committee.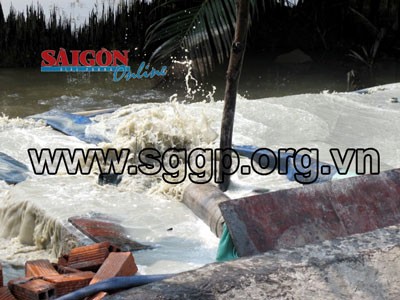 Untreated wastewater from Hao Duong Leather Tanning JSC is released directly into the Dong Dien River. (Photo: SGGP)
The Committee also entrusted the department to coordinate with relevant departments to immediately check all violations of Hao Duong Company in all fields, especially environmental violations as reported and present measures and strictest punishments for the company.
The Committee has now ordered immediate coercive implementation for settled sanctions, and thorough and complete repair of environmental damages, with a report back before November 15.
Hao Duong Leather Tanning Joint Stock Company has repeatedly been dumping untreated wastewater into the Dong Dien River despite being warned and fined several times, subsequently affecting the health of local residents, and raising much public concern.
Related articles: Hao Duong Company continues to dump wastewater in river
Polluter Vedan Will Be Shut Down: Minister
Leather tanning company faces criminal charges