Vegetables are grown on 722,000 hectares in Vietnam but only 8-8.5 percent has "clean" vegetables, the Cultivation Department officials told a conference on producing safe vegetables.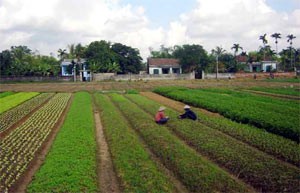 Farmers growing clean vegetables on a farm in Hai Phong. In Vietnam, only around 8 percent of vegetable farms grow clean vegetables, with the rest plagued by chemical and other contamination.
Only vegetables grown on farms in Da Lat, Sa Pa, Tam Dao, and Hanoi meet clean vegetable standards, they said.
 
The Red River Delta area has the largest area under vegetables in the country, but grows safe vegetables on just 14,000 hectares, with a mere 670 hectares being certified for maintaining quality standards, they said.
 
After inspecting farms in northern provinces like Bac Ninh, Hung Yen, and Ha Nam this year, official agencies discovered that 22/28 samples of vegetables high lead content, 14 had too much nitrate, 19 were contaminated by E.coli, and  27 by Coliform.
 
Le Van Bam, deputy head of the Ministry of Agriculture and Rural Development's Science and Technology Department, said with clean vegetables accounting for a mere 8 percent, progress has been too slow considering they have been grown for 13 years now.
 
He blamed this on the overuse of pesticides.
 
A department survey discovered that 21 percent of vegetables grown in the country have high pesticide residues, he added.