Over the first six months of the year, the total number of corruption cases going to trial fell by 20 percent and the number of complaints declined by 30 percent, compared with the same period of last year, announced Tran Van Truyen, head of the Government Inspectorate, July 9.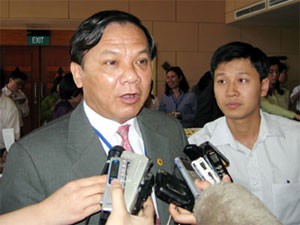 Mr. Tran Van Truyen
Although acknowledging the efficiency of the inspectorate's work, Mr. Truyen admitted that corruption and embezzlement still remained prevalent in many governmental organizations, agencies, branches and units at all levels nationwide.

Commenting upon the fact that as many as nine provinces throughout the country have reported no cases of corruption taking place in their areas, Mr Truyen said that it was unbelievable because each has had hundreds of projects.

He said that if corruption was not found in a province, it was probably because the inspectorate's investigations there have not yet worked very effectively.

Mr Truyen emphasized that the current objectives of the Government are to stop economic recession, curb inflation and stabilize society.

Therefore, one of the tasks of the inspectorate will be to focus on investigating companies, agencies and businesses that are entitled to the Government's stimulus packages to make sure that the funds are used for the right purposes, added Mr Truyen.

The other task, said Mr Truyen, is to check if relevant authorities at all levels, have complied with State policies in supporting disadvantaged people.

Mr Truyen said that investigations into the scandal of Tet welfare payments for the disadvantaged, in Lam Dong, Gia Lai, Quang Nam, Binh Dinh, Thua Thien-Hue and Ha Tinh provinces, found over VND100 billion (US$5.6 million) had been misappropriated.

Mr Truyen also announced that the inspectorate, working with the Central Steering Committee for Corruption Prevention and Control of Vietnam, will build a system that collects public opinions about the efficiency of the inspectorate's work.

Over the first six months of the year, the inspectorate has carried out 6,090 inspections nationwide, recovering VND431 billion ($24.2 million) and 835 hectares of land.

Administrative fines have been proposed to be imposed on 275 groups and 1,044 individuals, with 33 individual cases transferred for criminal investigations.