Francisco, the fourth typhoon of the year, slammed into the Tonkin Gulf late Monday, and continued its path towards northern Viet Nam, according to the National Meteorology Forecast Center.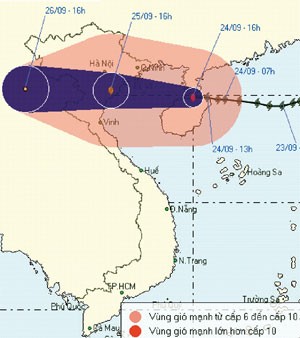 The map defines seperate areas affected by typhoon Francisco

The storm is forecast to hit the northern provinces with the storm center sweeping from Thai Binh to Thanh Hoa, and is then expected to push westward in the coming two days. The storm should then downgrade to a tropical depression along the borders of Viet Nam and Laos.

Francisco is expected to bring strong winds and rough seas in the Tonkin Gulf and heavy rains in the northern and central provinces. The storm will also cause higher-than-normal tides along coastal provinces.

Prime Minister Nguyen Tan Dung yesterday sent an urgent message to relevant ministries and agencies to implement concrete measures to cope with the storm.

He asked provincial authorities in Quang Ninh, Hai Phong, Thai Binh, Nam Dinh, and Thanh Hoa to apply strict measures banning ships and boats from heading offshore and to instruct ships which were already on the seas to find safe harbor.

Local authorities were asked to closely supervise the sea dike network and evacuate people to safer places before the storm approaches.

Mountainous provinces that face a high risk of landslides and flash floods were directed to map out measures to protect reservoirs and dams and to evacuate local populations.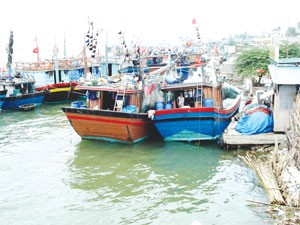 Vessels in Thua Thien-Hue province reach shore before the storm
The PM also asked the Ministry of Finance to distribute high-speed canoes, tents, big tops, lifebuoys, and life rafts to localities affected by the storm.

The border police said some 8,532 vessels with more than 48,000 fishermen are still at sea. In Quang Ninh and Nam Dinh, many vessels have found safe harbor before the storm.

At the moment, Da Nang has 146 vessels which had reached shore safely, and 109 vessels at sea are in contact with the mainland.

Quang Ngai province on Monday contacted 843 ships and boats with more than 6,800 fishermen; border police gave them instructions via walkie-talkie to quickly find shelter.