The northern provinces of Hung Yen, Ha Nam, Thai Binh and Bac Ninh with their close proximity to Hanoi, have great advantages to promote the development of their agricultural sector.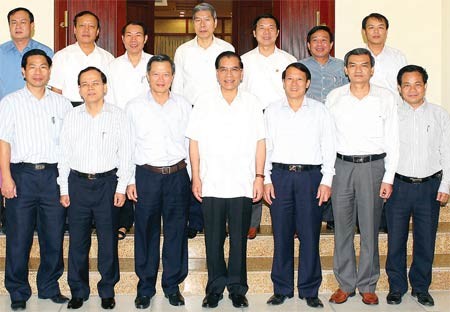 Party General Secretary Nong Duc Manh (C, foreground) poses with leaders of the northern province of Ha Nam
Party General Secretary Nong Duc Manh made the statement at a three-day meeting with the provinces' leaders, which ended yesterday, to check their preparations for the Communist Party Congress for the 2010-15 term.
The provinces should choose high-quality food products to supply to the city and for export, intensively apply bio-technology in agriculture and develop the food-processing industry, he suggested.
Located in the Red River Delta, with an increasing population but declining amount of available agricultural land, the provinces were asked to carefully consider the construction of industrial zones, and prioritize the development of hi-tech and environmentally-friendly industries, he said.
However, while exploiting their own potential, they must pay attention to the development of the region as well as the whole country, he said.
He stressed that the provinces must focus on sustainable development, requiring them to ensure food security and environmental protection.
The provinces were also requested to focus on rural planning and the development of human resources, he added.
In the meeting, Mr. Manh highly appreciated efforts that the provinces had made in socio-economic development, developing the Party and political system.
He pointed out the provincial weaknesses such as poor quality of growth and low competitiveness and the widening gap between the rich and the poor, and urban and rural residents.
He stressed that promoting a spirit of public service and healthy lifestyles for Party members should continue in the following period.
He asked the provincial Party Committees to audit their achievements and shortcomings in their leadership over the past term.
In the following period, provincial committees must continue improving their leadership capacity to ensure a breakthrough in socio-economic development.