The North and the Central regions experienced the hottest day since the beginning of the summer. This has been caused by low pressure offshore and to the west, said the National Weather Bureau.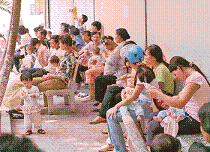 Children wait for their turn to see doctors at the Central Pediatrics Hospital, Hanoi, as the hot weather.
Temperatures in the North and the Central regions reached a high of 37 degrees Celsius on May 24.
According to the Weather Bureau, the low pressure will continue to influence weather in North and Central regions, bringing uncomfortable heat and heavy rains over the coming days.
The situation was multiplied in some districts of Hanoi, where power and water supplies were cut off.
Heavy rains and storms will arrive in the South and Central Highlands over night, with southwest winds at level 2-3, temperatures will range from 23-32 degrees.
In related news, the Da Nang Hospital has reported that over the last few days a number of elderly and children had to be hospitalized due to unseasonal weather.
The hospital has received more than 300 children a day.
Doctors recommend that children not be let out in the midday sun, air conditioners not be set at low temperatures and unhygienic food.