According to Sai Gon Giai Phong Newspaper's reporters, heavy rain triggered flooding stranded many areas in Thanh Hoa province. Swollen rivers and springs prompted local authorities to evacuate 20 households in Mua Xuan mountain village, Son Thuy commune, Quan Son district to safety.

The People's Committee of Lang Chanh district prepared for evacuation of 379 households from areas alongside rivers and springs and places highly prone to landslide.
Heavy rains with the precipitation of 250-400mm forced Ban Ang hydropower plant to release floodwater in Tuong Duong district, Nghe An province. Border army force successfully towed two broken-down fishing boats ashore. Another boat suffering engine failure was also taken to the shore safely in Quang Tri province.
Meantime, naval force rushed to approach another fishing boat in danger of sinking due to big waves off the neighboring province of Quang Binh. The province also reported a man died after losing his footing and falling down from his house roof while he was fortifying the house to brace for the storm.
In Thua Thien-Hue province, a cargo vessel rescued ten crew members from a sunken collier after a day drifting at sea.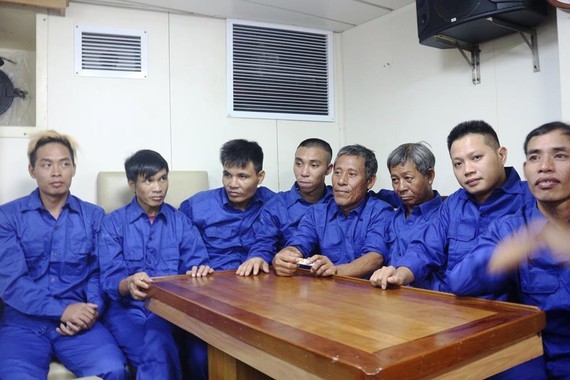 Crew members on a sunken collier have been saved off Thua Thien-Hue province (Photo: SGGP)
Minister of Agriculture and Rural Development Nguyen Xuan Cuong on August 30 led a delegation inspecting operations to repair damage in the aftermath of Typhoon Podul in Ha Tinh province.

Hundreds of people including military and police soldiers joined hands to help residents repair their houses and clear debris in the province. The provincial committee of the Vietnam Fatherland Front visited families with collapsed or roofless houses and gave them financial assistance and presents. Local authorities will require authorized agencies to continue assisting affected residents to remedy consequences of the typhoon and stabilize their lives.
In related news, the National Hydro Meteorological Forecasting Center said that briefly after Typhoon Podul was over, a low pressure zone had developed into a tropical depression east of the Philippines. The system is forecast to locate 670 kilometers east north east off Truong Sa (Spratly) Islands, Da Nang city with strongest winds near the center of the system reaching level 7 to move 50-60 kilometers an hour on September 1.
In the meantime, an intertropical convergence zone in the North Central region in combination with the tropical depression is predicted to trigger medium to heavy rains in the Northern region and the North Central provinces of Thanh Hoa and Nghe An on September 2.
On August 31, the Northern region and Thanh Hoa experienced common rainfall of 30-70mm. Some areas saw it higher at 111mm in Sa Pa, Lao Cai; 112mm in Tam Dao, Vinh Phuc; 154mm in Mong Cai, Quang Ninh; 195mm in Tien Yen, Quang Ninh and 440mm in Quang Ha, Quang Ninh.