The coast in the north central provinces of Ha Tinh, Quang Binh, Quang Tri andThua Thien-Hue have become white with hundreds of tons of dead fish being washed ashore for the last several days with unclear reason.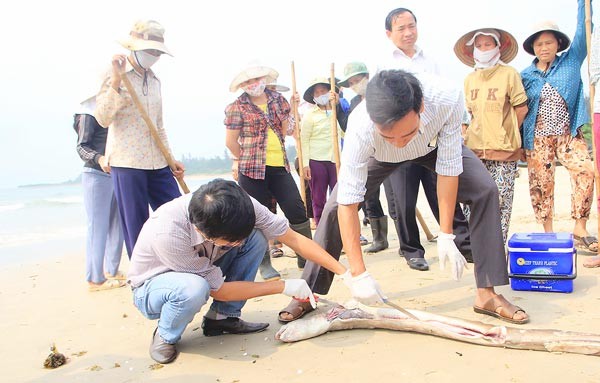 Officials in Quang Tri province take viscera samples from dead fish for testing on April 21 (Photo: SGGP)
Not only saltwater fish but also farm raised fish has died quickly and suddenly in waters near Vung Ang Industrial Park, Ha Tinh.
Dead fish has kept stretching over 121 kilometers of Quang Binh coastline since April 6. The situation has even occurred in some rivers and estuaries where other aquatic animals and plants have suffered the same destiny.

It started on April 10 in Quang Tri province and got worst since April 17. Local residents have so far collected nearly 30 tons of dead fish worth VND3 billion (US$135,000).
Businesses in well-known beaches such as Nhat Le, Da Nhay, Roon and Hai Ninh in Quang Binh have concerned that the dead fish will reduce the number of visitors in the upcoming Reunification Day and May Day.
Dead fish has also wide spread in Lang Co town, Thua Thien-Hue province. Local people have stopped consuming fish believing that they have been intoxicated. Local seafood markets have fallen into unsalable condition. Seafood restaurants have been crowded with visitors at this time instead of being such empty.
According to the Agriculture and Rural Development Department in Thua Thien-Hue, PH scale change might be reason for the dead fish. Water testing results at farms in Lang Co town shows the PH level of 8.8, higher than the normal scale of 7.5-8.3 in previous years.
In addition, the department also attributed the condition to the strong development of seaweed combined with the rise of toxic gas from the bottom of fish cages and highly increased temperatures amid season change time.
Meantime, deputy head of the Health Animal Department in Quang Binh province Duong Viet Phuong Tuan said fish might have suffered acute toxicity because of toxins in water environment.
Deputy director of the Ha Tinh province Department of Agriculture and Rural Development Le Duc Nhan said that observation results had not specified the type of toxin killing fish. He proposed the central government to soon inspect and make clear the cause.