Party General Secretary Nguyen Phu Trong reiterated on Saturday that the Party and the State will sustain the fight against corruption with determination.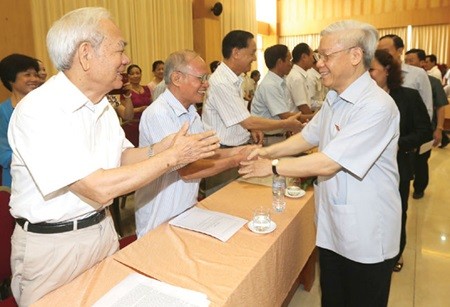 Party General Secretary Nguyen Phu Trong (right) meets with voters in Hoan Kiem District, Ha Noi on Saturday. — VNA/VNS Photo Tri Dung
Responding to concerns expressed by voters from the capital city's Ba Dinh, Hoan Kiem and Tay Ho districts, he said corruption had become an increasingly complex phenomenon but several measures are being taken to tackle it.
Several major corruption cases are being investigated by the Anti-Corruption Central Steering Committee, which has seven teams of inspectors overseeing investigations across the country, he said.
The Party chief highlighted the recent arrest of a Vinashin official who was involved in the loss of millions of dollars to the State and had been in hiding overseas for years, saying it showed the resolve of the Party and the Government in fighting corruption.
Wrongful convictions
Briefing the voters on last month's National Assembly session, Trong said the parliament had been able to take important decisions on numerous major issues. It had approved building of the Long Thanh International Airport as well as a resolution on judicial reforms that aims to reduce the number of wrongful convictions, he said.
However, there was work to be done on improving the process of selecting parliamentarians, he said, referring to the dismissals of deputies Chau Thi Thu Nga and Dang Thi Hoang Yen. The dismissals are a lesson for the NA to tighten its selection process and ensure that all deputies are fully qualified to fulfill their important duties, the Party leader said.
He praised the voters for their dedication and opinions, saying this showed the people's interest in national issues.
He noted the voters' suggestions on a number of issues, including improving labour productivity, fighting trade fraud and corruption and waste, increasing communication activities on the East Sea situation, and strengthening supervision of public expenditure.
On his recently concluded historic visit to the US, the Party leader stressed that Viet Nam has pursued a consistent external policy of peace, independence, diversification and multi-lateralisation of international relations in order to secure a peaceful and stable environment for the country's development.
The success of his visit reflected the enhanced status and position of Viet Nam in the international community, he said.