Phung Huu Hao, Deputy Director of the Department of Quality Control for Agricultural, Forestry and Aquatic Products, announced on March 15 that there is no need to worry about pork quality, as pigs raised with chemical steroids comprise only 1 per cent of the pork in the market.

No harm to human health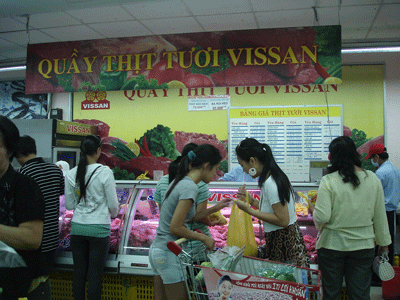 Consumers buying pork at a Vissan store in Big C in District 10 (Photo: U. Phuong)
Since the media reported of banned chemical substances in pork, price of pork has decreased from VND52,000 to VND45,000-48,000 per kilo (US$2.5 to $2.15).

Diep Kinh Tan, Vice Minister of Agriculture and Rural Development is concerned that this issue could negatively affect honest pork breeders and lead to a shortage in the market, particularly for the price subsidised programme.

According to Nguyen Thanh Son, Deputy Director of the Department of Livestock Breeding, certain ranches in the southern provinces of Dong Nai and Binh Phuoc are now using leanness-enhancing steroids in pig breeding, which is a cause for concern for consumers. However, the percentage of such pork is extremely low and mostly in the southern areas of the country.

Answering a question of whether or not active agents in the Beta-Agonists group used in pig feed were unsafe for human health, Phung Huu Hao confirmed that they could certainly harm our health if overused. In reality, many body-building athletes still drink these steroids as per instructions of their personal doctors.

Look carefully before buying pork

Following articles on use of harmful chemicals in pig breeding farms in Dong Nai Province, Prime Minister Nguyen Tan Dung has instructed that the People's Committee of Dong Nai Province must cooperate with the Ministry of Agriculture and Rural Development as well as the Ministry of Health to run a full-scale inspection and implement appropriate penalty on such cases, and report back to the central government by the end of March.
To assure the public, Phung Huu Hao said that in the investigations carried out last year at most slaughterhouses and wholesale markets, the rate of pork containing leanness-enhancing agents or growth-promoting hormones was only 1 per cent. Therefore, pork consumers should not worry too much.
Nguyen Thanh Son also encouraged the public to continue consuming pork, saying that news of pork having leanness-enhancing steroids has been known for years with no serious harm at all.
A word of advice from Phung Huu Hao is that consumers must pay close attention to the colour and characteristics when choosing pork. For example, it is not advisable to buy pork with huge buttocks or shoulders, too much muscle or too lean, dark colour, and fat under the skin that is about 1 centimetre thick. Healthy pork should have a bright pinky colour, a fair balance between lean and fat, plus a good smell.
Traders depress price of pork
Since the release of news on pigs raised on banned chemicals broke out, price of pork has dropped drastically. Taking advantage of the scandal, traders are buying pigs at VND5,000-6,000 per kilo (US$0.24) lower than usual, causing huge losses to pig-breeders, especially large-scale pig ranches that are losing hundreds of millions of VND.
At the moment, these profiteers are buying at VND40,000-42000 per kilo ($1.9) from large-scale breeders and VND38,000-39,000 per kilo ($1.8) from small-scale ranches. Most breeders are suffering an average loss of VND500,000-600,000 ($24-29) per 100 kilos.

Related article:
Ministry cracks down on banned chemicals in pig-breeding