No casualties have been reported so far from a severe landslide that occurred in Binh Duc Ward of Long Xuyen City in the Mekong delta province of An Giang on March 4.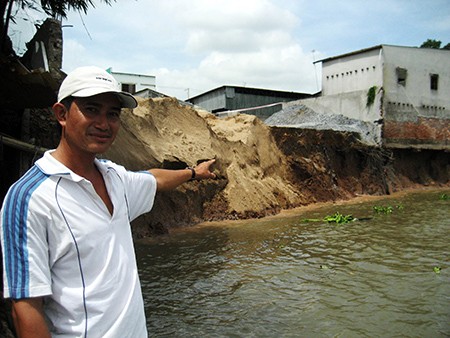 Many large cracks are still threatening to fall by just full of sand and soft soil
Three warehouses and 22 households were destroyed as the entire area slipped into the river in Binh Duc Ward in An Giang Province. Fortunately no one was reported injured or dead.
Long Xuyen City authorities and police arrived at the spot almost immediately and helped people in the affected area to move to safer locations.
Police even protected the personal belongings of the landslide victims, to prevent hooligans from taking advantage of the situation and rob the people.
Road and river traffic wardens also worked round-the-clock at the landslide area to help remove personal belongings of residents, in case the situation worsened, after the Department of Natural Resources and Environment warned of another recurring landslide.
 
So far, the rescue teams have helped move 22 households out of the danger zone and the City People's Committee has provided each household with VND6 million, to assist them for the time being to resettle in safer areas.