President Truong Tan Sang received visiting Nicaraguan Foreign Minister Samuel Santos Lopez in Ha Noi yesterday.
The President congratulated the Nicaraguan government and people on their recent socio-economic achievements, which have raised the country's position on the international stage.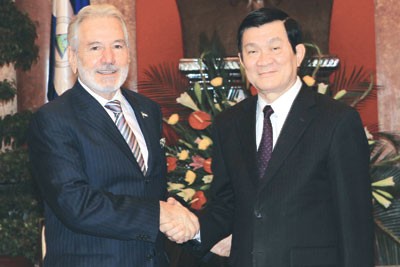 President Truong Tan Sang (R) greets visiting Nicaraguan Foreign Minister Samuel Santos Lopez at the Presidential Palace in Ha Noi.
President Sang thanked Nicaragua for its support to Viet Nam during the struggle for national independence.
He suggested that the two sides should strengthen the exchange of business missions seeking mutual investment opportunities. He also affirmed his willingness to help Nicaragua in areas of Vietnamese strength, such as agriculture and telecommunications.
Minister Lopez expressed his admiration at Viet Nam's historical tradition and the great achievements of the Vietnamese people during the past 25 years of modernisation.
He briefed the President on the results of his recent talks with Foreign Minister Pham Binh Minh, saying the two sides agreed to boost co-operation in trade, agriculture, telecoms and infrastructure construction in Nicaragua.
Lopez delivered the Nicaraguan President's letter to invite President Sang to visit Nicaragua, helping to further strengthen bilateral ties.
On the same day, the Nicaraguan minister was received by National Assembly Vice Chairwoman Nguyen Thi Kim Ngan, who affirmed that Viet Nam has consistently created favourable conditions for Nicaraguan businesses to seek investment opportunities in Viet Nam