Following a two-month test run, the Vietnam News Agency on Wednesday launched its owned television channel with the name "VNEWS" saying it all, just news.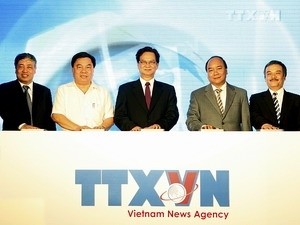 Prime Minister Nguyen Tan Dung (C) takes part in the launch of the Vietnam News Agency's TV channel. (Photo: Vietnamplus)
VNEWS marks an important milestone in VNA's roadmap to operate as a communications consortium. It also heralds VNA's 65 th founding anniversary (Sept. 15).
Delivering speech at the launching ceremony of the TT chanel, PM Dung affirmed that the Party and the State will continue to support and assist VNA in accomplishing its assigned tasks successfully.
VNA Director-General Tran Mai Huong said VNEWS will broadcast throughout the day with constantly updated current events and latest news in all fields including political, economics, cultural and social.
Tasked as one of VNA's key information units, the channel will, through its special programmes such as "Feedback", "Breaking News" and "Reporters' Prism", broadcast information that reflects and defends the Party and State's viewpoints and at the same time rejects and corrects false information and wrong opinions against the Party and State, noted the VNA senior official.
With almost 1,000 reporters and sub-editors present across the country and in nearly 30 countries around the world and a variety of press publications of all media types, VNA is poised to develop into a strong national communications group in the development trend of the modern press.
VNEWS broadcasts will be on the VCTV, HTV-BTS, HCTV, SCTV, Nacencom, and IPTV on the Vietnam Post and Telecommunications Corporation's MyTV.
The channel will be present on Kplus (K+) – a satellite digital television network under the logo "TTXVN", on cable TV systems run by different provinces and cities, and on digital TV service packages.
Broadcasts will also be launched directly and kept at the website: http://vnews.vnanet.vn.