Speaking at a Q&A session of the ongoing National Assembly meeting, Transport Minister Dinh La Thang yesterday (Nov 23) expressed his excitement at being interviewed for the first time at an NA session.
He spoke of doing his best to reduce traffic accidents nationwide, as they were a curse on society and his ministry would take all measures to reduce their occurrence.
"It's time to take immediate action, not to consider if this or that measure should be taken," said Minister Thang, and he was determined to reduce traffic accidents by 5-10 per cent each year during his five-year term.
He called on Government and State leaders to take traffic issues as seriously as socio-economic development issues.
Traffic accidents kill 12,000 people a year in Vietnam on an average. Traffic jams and accidents are issues closely related to social and economic development of Vietnam. What needs to be done is to try and control and reduce the number of traffic accidents, however, if traffic jams can be reduced one is not so sure, added Thang.
Traffic law enforcement has yet to be strictly carried out, reflecting in the fact that many traffic violations have not been handled properly and a number of law enforcement officers have been corrupt.
Replying to questions about traffic congestion in Hanoi and HCMC, the ministry said that local authorities must be held responsible for this. Since he came into office three months ago, Thang has made several harsh decisions, including prohibiting Transport Ministry employees from playing golf and making changes in the school and office timings in big cities to reduce traffic congestion.
He said that persons found committing wrongdoings would be reproached or even dismissed.
He believed that if all the people, the entire socio-political system and local authorities join hands in preventing traffic accidents, accidents as a whole can be reduced by 5-10 percent per year.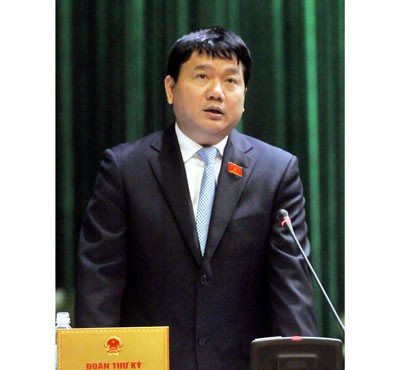 Transport Minister Dinh La Thang (Photo SGGP)
The Transport minister also suggested that 2012 be set forth as 'the year for restoring traffic order'.
On the same day, speaking at a meeting on traffic safety and congestion, HCMC vice Chairman Nguyen Huu Tin said better management was the key to improving the situation.
He ordered authorities of districts in HCMC and the Department of Transport to raise proposals to ease traffic jams. He suggested that railway, road and waterway traffic infrastructure should be upgraded, illegal occupation of pavements eliminated, more overhead bridges built, traffic fines increased, moving hospitals and universities to the suburb, reorganizing bus routes...
Former HCMC Vice Chairman Nguyen Thanh Tai shared Tin's views, saying that management of traffic had been very weak up to now and high tide along with heavy rains have not helped the situation much, but created a worsening scenario.