The first session of the 13th-tenure National Assembly will open on July 21 and close on August 6, focusing on the legislative body's organisation and personnel work.
This information was released during a meeting chaired by Party General Secretary and NA Chairman Nguyen Phu Trong in Hanoi on July 14 on preparations for the session.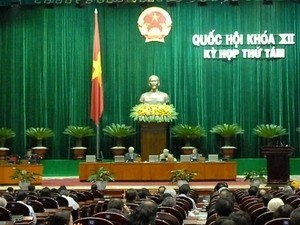 Vietnam News Agency file photo shows a session of the 12th-tenure National Assembly
According to Head of the NA Office Tran Dinh Dan, during the session, the NA will elect its Chairperson and Vice Chairpersons of the NA, and members of its Standing Committee, State President, Vice State President, Prime Minister, Chief Judge of the Supreme People's Court, and Head of the Supreme People's Procuracy, as well as approve Government members.
The legislative body will decide several other important issues such as the 2012 Law and Ordinance Building Programme, measures to implement socio-economic development plans and the State budget in the last six months of 2011, and approve the 2009 State budget balance.
The NA will hear and discuss the implementation of the Resolution of the 11th National Party Congress and the Resolution of the second meeting of the 11th Party Central Committee as well as the establishment of a committee in charge of drafting amendments to the 1992 Constitution.
Speaking at the meeting, Party General Secretary and NA Chairman Trong noted several contents that should be added to the agenda of the 13th-tenure NA's first session, including a resolution on tax reduction, exemption and reschedule in 2011 and the election of the Chief Auditor.
He urged the NA agencies and compiling units to urgently make supplementations and amendments, ensuring the best preparations for the first session of the 13th NA.
On the same day, the NA Standing Committee agreed to approve a resolution on issuing environmental protection tariff.