Vietnam's newly elected National Assembly opened the first sitting in Hanoi Thursday, set to vote for the new NA Chairman, four Vice Chairmen, the country's President, Vice President and Prime Minister during the session.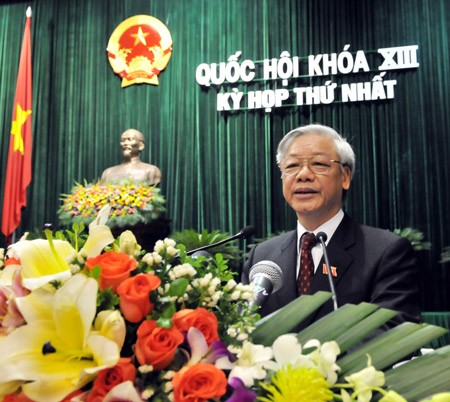 Vietnam's Party General Secretary and Chairman of the 12th National Assembly Nguyen Phu Trong addresses the first NA session in Hanoi July 21, 2011 (Photo: Minh Dien)
Party General Secretary and NA Chairman Nguyen Phu Trong delivered an opening speech. He said the 12th-tenure NA had successfully completed, reaffirmed the experience and results of the legislative body's through 65 years of history and set a stage for the 13th-tenure NA.
He said the national election in May selected 500 deputies for the 2011-2016 term.
Ms. Tong Thi Phong, NA Vice Chairman and Standing Vice President of the Central Election Council, presented a report on the results of May elections at all levels for the new tenure.
Permanent Deputy Prime Minister Nguyen Sinh Hung delivered a report on the country's socio-economic situation and State budget in the first half of 2011 as well as major tasks and measures for the last six months of the year.
He said the first half's GDP growth was 5.57 percent, lower than the NA's target of 7 to 7.5 percent, and lower than performance in the same period last year.

Vietnam needs to make more efforts to increase the GDP growth in the second half, targeting six percent for the entire year, Mr. Hung said.
Ha Van Hien, member of the 12th NA Standing Committee and Head of the 12th NA's Committee for Economics, made a report on the NA's verification of the Government's report.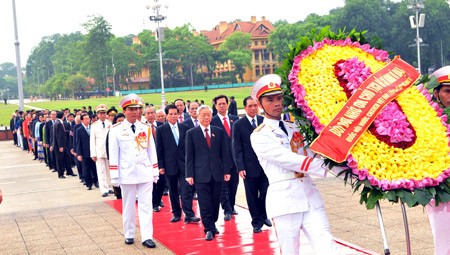 Vietnam's leaders and new National Assembly deputies line up to pay respect to late President Ho Chi Minh at his mausoleum in Hanoi prior to the opening of the first NA session Hanoi July 21, 2011 (Photo: Minh Dien)
Before the opening ceremony, NA deputies paid tribute to late President Ho Chi Minh at his mausoleum in Hanoi and laid wreaths at the Monument to Heroes and Fallen Soldiers in the capital.
The 1st session of the new NA is set to last until August 6.