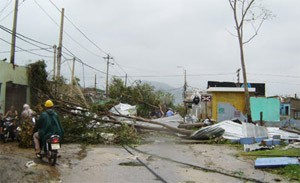 Aftermath of Typhoon Xangsane in the central province of Quang Ngai.
Six hundred seventy families living on Ly Son Island (Quang Ngai Province), whose houses were destroyed by Typhoon Xangsane, will have their houses repaired or replaced in time for the Lunar New Year.
Twenty households were given between US$940 and US$1,250 each to rebuild their houses, while a further US$28,200 was allocated to 650 families to repair damage to their houses.
Funding for the relief effort was provided by readers of local newspapers and citizens nationwide. The Typhoon's victims are doing the best they can to finish construction before New Year's Day.