Forty new flood-proof houses built in a camp along the Don Dong Canal in Tan Hiep District in the Mekong Delta province of Kien Giang have collapsed after only one rainstorm.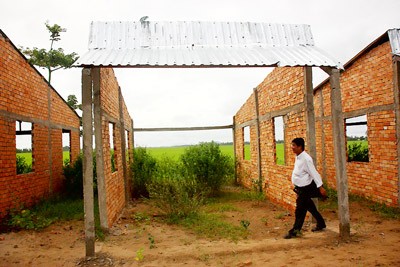 New flood-proof houses in residential camps in Tan Hiep District of Kien Giang Province (Photo: SGGP)
The residential camp comprises of 360 flood-proof houses built along the Don Dong Canal, which runs through Tan An and Tan Hoa Commune in Tan Hiep District.
The contractor for the project is the privately owned Ba San Company from Giong Rieng District in Kien Giang Province.
Three hundred of the 360 houses have been completed with each house covering an area of 32 square meters. However, 40 of the completed houses have collapsed before the contractor could transfer them to the residents.
Tan Hoa Commune has 85 flood-proof houses in the residential camp, of which 15 houses have completely collapsed and 18 others lost their roofs.
At the site, tens of houses were seen with their brick walls cracked, their sheet-metal roofs laid without secured screws and easily blowing off in even a mild breeze.
Nguyen Hong Khanh, deputy chairman of the People's Committee of Tan Hoa Commune, said that the project's management board and the contractor asked the commune authorities to examine the houses and let residents in.
However the commune has refused to let any residents move in after seeing the poor quality of construction. 
Mr. Khanh said that during construction, the commune had proposed to the management board to examine the houses several times before handing them over, but this has not been done.
 
Instead of inspecting the houses after they collapsed, the steering committee for construction of these houses in Tan Hiep District proposed to the provincial People's Committee to give financial aid to Ba San Company to repair the houses. The committee blamed the collapse of the houses to natural disasters.
According to the committee, the capital for construction of houses is too low, making for poor quality houses. The committee proposed to the province to assist the contractor with VND216.5 million (US$10,384) to repair the damaged houses.
Nguyen Thanh Hien, deputy head of the steering committee, said that with a total capital of VND20 million ($960), a house only comprises of a skeleton two walls and a temporary roof above. After the houses are handed over to residents, they will build the remaining two walls and install doors.
Several people believe that the value of such houses does not exceed VND20 million for one.
Following instructions of the People's Committee in Kien Giang Province, the Department of Construction has inspected the residential camps and taken samples of bricks and concrete to assess the quality of the flood-proof houses.