Visitors travelling to large commercial and tourist centers including Hanoi, Ho Chi Minh City, Da Nang and Hue will receive preferential cards or shopping coupons at supermarkets, shops, hotels and tourist areas as part of a new national tourism campaign.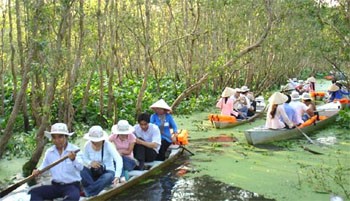 Visitors travel to the Mekong Delta. A new national tourist promotion offers discount vouchers to visitors (Photo: Vietnamnet)
The Vietnam National Administration of Tourism March 12 unveiled the promotion program "Vietnam, your destination", with the goal of 4.2 million foreign and 28 million domestic visitors this year.
To qualify just present passports or identity cards for preferential cards, with discounts up to 50 percent.
Travel companies participating in the program will be able to advertise for free on government tourist websites and international fairs.
In addition, the administration will launch promotional campaigns in the major market countries such as Japan and Korea, France and Western Europe, the US and Australia.