Zhai Lei Ming, the new Chinese Consul-General in Ho Chi Minh City, on February 22 paid a courtesy visit to the Sai Gon Giai Phong Newspaper Office on Hong Bang Street in District 5 of HCMC.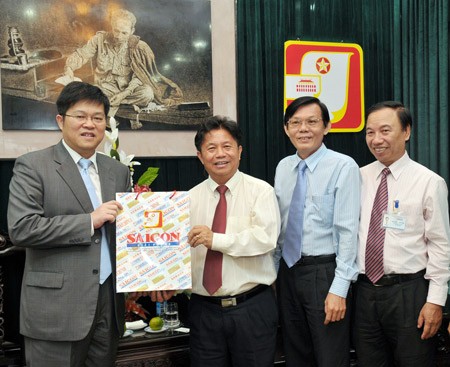 Senior editors of Sai Gon Giai Phong Newspaper welcome Zhai Lei Ming (L) on February 22 (Photo:SGGP)
Tran The Tuyen, SGGP Editor-in-Chief; Nguyen Tan Phong, Deputy Editor-in-Chief; and Nguyen Trung Bo, Deputy Editor-in-Chief the Chinese language edition, welcomed the Chinese Consul-General.
Mr. Zhai thanked SGGP officials and reporters for their warm welcome and praised their achievements at the newspaper, run under the guidelines of the State and the HCMC Party Committee.
He also expressed his appreciation of the international website of SGGP for latest updates of events and news in the world and China.
On behalf of the SGGP editorial board, Editor-in-Chief Tuyen thanked Mr. Zhai for his warm sentiments towards Vietnam, HCMC and SGGP Newspaper.
Mr. Tuyen said that SGGP Newspaper not only promotes the Party's decisions and policies, but also provides information on politics, economy, society and culture and the lives of people, along with international news.
In addition, SGGP is the only newspaper in the country to have a Chinese language publication. This publication not only serves the people of Chinese origin in Ho Chi Minh City but also Chinese companies operating in Vietnam.
Mr. Tuyen also said SGGP would always try to strengthen the relationship between the people of both the countries.