Howard Limbert, a cave expert from the British Royal Cave Research Association, said on May 23 that his team along with some scientists from the US had discovered a cave which is larger than the Son Doong Cave--currently the world's largest cave--in Phong Nha-Ke Bang National Park in the central province of Quang Binh.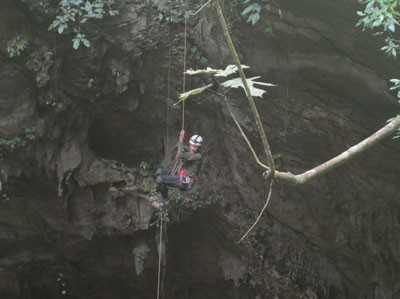 Scientists explore ten new vertical caves in Phong Nha-Ke Bang National Park
The newly discovered cave is two kilometer long. It is seven kilometer shorter and 30-50m wider than the 200m high and 150m wide Son Doong Cave.
While studying the Son Doong Cave, the US and British scientists found a collapsed one running in the north-south direction in the front of the cave. They also discovered numerous giant stalactites covered with moss in the area.
Initial suppositions made them believe that the two kilometer cave used to be the entrance of Son Doong Cave with the back exit being En Cave.
Stone and stalactites samples along the two kilometers were taken to the US where scientists used advanced technology to study and gauge the giant cave.
The cave is said to be tens of millions of years old and has seen heavy erosion from flooding. The fast water current also collapsed the cave walls.
Howard Limbert said that from collected data, the US scientists calculated that the cave section had collapsed from 370,000 years to two million years ago.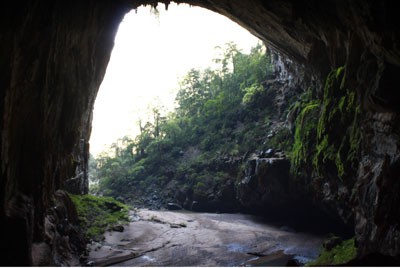 Exit of En Cave (Photos provided by exploration team)
They worry that floodwaters will continue to erode other caves in Phong Nha-Ke Bang National Park. At present, water has seeped deep inside the base of the right wall at exit of En Cave.
On the same day, Limbert announced that they had discovered a new type of cave in the Phong Nha-Ke Bang National Park.
This is a group of ten vertical caves located in Xuong Valley in the western and eastern side of Chay River. Limestone caves discovered earlier in this area lay horizontal in the mountains.
The cluster of ten new caves measure 95-356m deep each, of these, Vuc Tang Cave is most unique with a link at its deepest spot to another spacious cave, which is 3.46km long with magnificent stalactites.