Police in the southern province of Dong Thap on September 4 reported that six people had died of suffocation after they fell into a fish-oil tank at the IDI Fish Oil Refinery.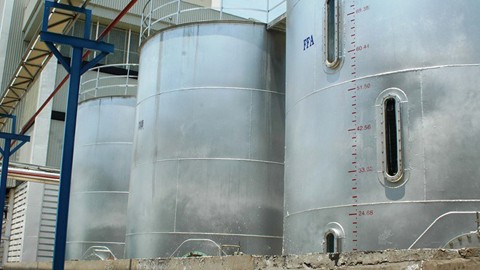 The huge fish-oil tanks where six people died of suffocation
The accident happened when two employees were assigned to take samples of fish-oil from a nine meter-high tank for testing.
However, when they went down half the staircase, they suddenly passed out and fell into the fish-oil below. Four others later went down the stairs in turn, but all suffered from suffocation and slipped into the fish-oil.
Another staff member at the plant fainted when he reached the top of the tank and was taken to Lap Vo Hospital for emergency treatment.
Among the six victims was the plant director Mai Huu Ton, 31, and his deputy Trieu Ba Tra, 39.
Senior Lieutenant Colonel Le Hoang Dung, Deputy Head of Police in Lap Vo District of Dong Thap Province, said after performing autopsies on the victims, police have handed over the bodies of the victims to their relatives for burial.
Ho Manh Dung from the plant said fish oil tanks usually have lids covering them and low oxygen content inside. Accordingly, employees should wait for a certain time for oxygen levels to increase. This incident in particular is a case of sheer negligence.
The representative of the International Development Investment Corporation visited the families of the victims and gave each of them VND100 million (US$4,800).
Representatives of the People's Committee in Lap Vo also visited the victims and gave each of their families VND3 million for the dead victims and VND2 million for the injured as initial support.
The Vietnam Labor Confederation representatives also gave the same support to these families.