In response to 'World Day of Remembrance for Road Traffic Victims' on November 17, a delegation from the National Traffic Safety Committee visited and gave gifts to poor and needy victims of traffic accidents on November 9.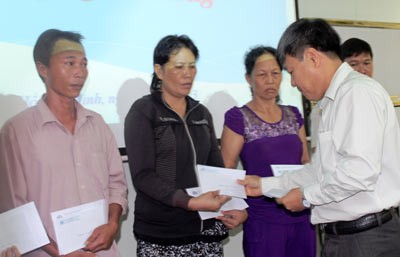 A representative from the Committee gives gifts to need and poor traffic accident people at Cho Ray Hospital (Photo: SGGP)
A delegation led by Transport Minister Dinh La Thang, Deputy Head of the Committee, arrived in Viet-Duc Hospital in Hanoi to visit traffic accident victims as well as send encouragement to families of two poor dead victims in Gia Lam and Thanh Oai Districts in Hanoi.
On the same day, the delegation also dropped by to visit families of traffic accident victims in the northern province of Thai Nguyen.
Elsewhere in Ho Chi Minh City, another delegation from the National Traffic Safety Committee visited and encouraged people who are being treated in Cho Ray Hospital for injuries sustained in traffic accidents.
Nguyen Trong Thai, Head of the Secretariat of the National Traffic Safety Committee and delegation member, asked the traffic accident victims of their health condition, reminding them of raising awareness of traffic law. The delegation gave each victim VND2 million as support for medical expenses.
According to statistics of the committee, in last three years, around 10,000 people have died each year as a result of road traffic crashes in the country and more than 30,000 others have suffered non-fatal injuries. However, many have been left invalids as a result of their injuries.
Worse still is the fact that the number of people suffering from severe concussion after an accident is now increasing drastically. Since the beginning of the year, Cho Ray Hospital has admitted 20,612 traffic accident victims, with nearly 14,000 people suffering from brain injury.
On the same day, the delegation also visited two families in Phu Xuan and Phuoc Kien Communes in Nha Be District in HCMC, who lost relatives in traffic accidents.
The delegation also plans to call on families in Thu Duc, Binh Chanh and Cu Chi Districts who have either lost a relative or are coping with an injured one.
This is the second year the Committee has held a ceremony to remember road traffic victims. In addition to visiting victims of traffic accidents and their families, the Committee also built two charity houses, each worth VND30 million (US$1,423) for two disadvantaged families in the highland province of Dak Lak and the northern province of Bac Kan.
The Committee and the Vietnam Buddhist Sangha will hold a grand requiem on November 16.