Vietnam will grant amnesty to more than 17,000 prisoners on the occasion of the 65th anniversary of the country's August Revolution and the National Day, September 2.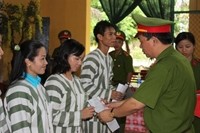 17,000 prisoners will be granted amnesty on the occasion of the 65th anniversary of the country's National Day.
This year, the amnesty will include the release of 30 Vietnamese prisoners who committed national security violations and 27 foreign nationals.
Under the decision, the prisoners will be released on August 30.
Deputy Prime Minister Truong Vinh Trong said the recidivism rate for prisoners who had received amnesty was very low, at just 1.97 per cent in recent years.
Deputy Minister of Public Security Le The Tiem said the ministry has worked with the Ministry of National Defence to establish a steering committee to guide localities and prisons in the implementation of the Government's 2010 decision on amnesty.
About 650 officials in northern and southern areas have been trained on various aspects related to the amnesty, he said.
Tiem said that to receive the National Day amnesty, the prisoners have paid additional fines and damages totalling nearly VND130 billion (US$6.63 million). One prisoner paid more than VND3.93 billion ($172,890) in fines.
He said the prisons have organised training classes to give socio-economic information, basic knowledge about laws, and life-skills to the prisoners who are eligible for amnesty to help them re-integrate into the community.
The ministry has held two meetings in Ha Noi and HCM City to unify the release of amnestied prisoners, and guided relevant authorities in drafting a Government decree on the re-integration of amnestied people to provide a legal basis for them to stabilise their lives and prevent recidivism.