The first session of the 13th National Assembly which starts Thursday will discuss the new top postions and its organs' management, following the recent national election, officials told a press briefings Tuesday.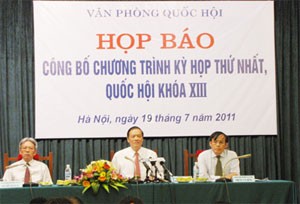 Officials sit at the Tuesday press briefings over the first session of the 13th National Assembly
Mr. Nguyen Si Dung, deputy chairman of the assembly office, said that the assembly will save 11 days of the 17-day session for decisions on organization tasks and staff management.
Mr. Dung said the session will hear the election results for the new term between 2011 and 2016 of the National Assembly and local People's Councils.
Vietnam's Fatherland Front Committee will also report residents' opinions and suggestions during the election.
The official said that the assembly will check the capacity and ethics of people elected for the new term and select leaders for national offices.
Among the leadership titles are National Assembly chairman and vice chairman, members of the assembly Standing Committee, members of the Ethnic Council, State President, Deputy State President, Prime Minister, Leading Judge of the Supreme People's Court, and head of the Supreme People's Procuracy.
The assembly will approve the suggestions of the Prime Minister about his cabinet staff and pass the Resolution on Law Construction in 2012 and another one over the plan for making amendments to the 1992 Constitution.
Tran Dinh Dan, chairman of the assembly office, said that the assembly has carefully considered people for the leading titles in the government organization.
Dan said the candidates have been eyed with consultation of authorized agencies.
But specific names for specific titles will only be decided at the session, he said.
The chairman said deputies of the assembly "can completely suggest more candidates if they feel necessary."
As the assembly office has recently organized three training courses for deputies of the 13th assembly, Dan said that even the deputies selected for the positions for the first time will not feel so strange with the jobs they're supposed to do.
Parts of the session will also be given to reports on the implementation of socio-economic plans over the first half of the year.
The officials will then offer suggestions for the plans during the second half of year.
Dung said by the end of the session, the assembly is expected to decide whether to issue a number of additional tax measures to create business convenience of firms and individuals, in an effort to boost economic growth this year.
The assembly will also save some time to listen to reports on the East Sea situation.