The draft law on support for small and medium-sized enterprises (SMEs) will be discussed at the 14th National Assembly's second meeting sessions which will open today, heard a conference yesterday.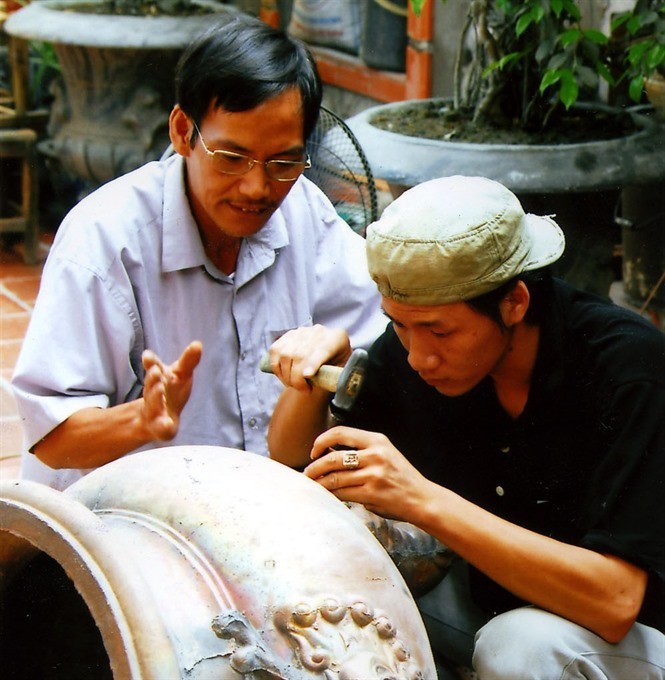 A small copper company in northern Bắc Ninh Province's Gia Bình District. Small- and medium-sized enterprises are struggling to access business resources, such as credit, land and market information. — VNA/VNS Photo Thanh Hà
Deputy Minister of Planning and Investment Đặng Huy Đông said at the conference organised by the ministry's Agency for Enterprises Development and the United States Agency for International Development that SMEs were a driver for growth and the core of the economy.
SMEs accounted for 97 per cent of all firms, provided jobs to half of the labour force and contributed 40 per cent to gross domestic product (GDP). However, they were still struggling to access business resources, such as credit, land and market information.
Đông said the law would create a level playing field for firms while raising private resources in boosting the SME community. The law would aim to encourage firms to renovate the growth model and improve competitiveness.
"The support from the law is appropriate to Việt Nam's commitments to international trade deals," Lê Văn Khương, Head of SMEs Department said, adding that the law was expected to boost employment and contribute to enabling one million firms to operate efficiently by 2020.
According to Gloria Steele, USAID's Senior Deputy Assistant Administrator for Asia, Việt Nam was growing rapidly in the region. Creating a favourable environment for SMEs to develop was essential for the country's growth, she said.
Support to women-led firms
In another conference held on Tuesday, experts said that gender equality should be addressed in the law on support for SMEs, by supporting female-led firms.
A report heard at the workshop on Tuesday held by the Việt Nam Chamber of Commerce and Industry (VCCI) and the Hà Nội Women's Association of SMEs (HAWASME) revealed that female-led firms significantly contributed to the country's socio-economic development but faced several disadvantages compared with male-led firms.
The report carried out by HAWASME and Asian Development Bank's Mekong Business Initiative (MBI) found that female-led firms accounted for 24.8 per cent of the total number of firms or 25 per cent of the total number of SMEs and created more than 1.6 million jobs. Female-led firms also used more women workers than male-led firms with respective proportions of 43.4 per cent and 36 per cent.
However, they faced barriers in accessing financial resources, market information, trade promotion programmes and Government supports. Female entrepreneurs also struggle to balance family and work, according to the report.
Hà Thị Vinh, director of Quang Vinh Ceramics Company, said that female entrepreneurs were often bound by cultural and family factors.
Experts at the conference said that the draft law should address gender-related issues.
According to Hoàng Quang Phòng, VCCI's Deputy Director, there was a shortage of support for female-led firms. "It is necessary to have policies to promote female entrepreneurship," Phòng said.
Currently, Việt Nam has only Decree 56/2009/NĐ-CP which mentions female-led firms, saying that support to female-led SMEs or SMEs using a significant number of women workers will be given priority. However, there were no detailed regulations and support failed to reach female-led firms.
Many countries such as South Korea, the Philippines and the US have separate laws or programmes to support female-led firms.
Bùi Sỹ Lợi, Deputy Chairman of the NA's Committee on Social Affairs said that he expected the law on support to SMEs would support SMEs and female-led firms.
Lợi said that support to female-led firms should include trade promotion, resource access, developing business network and improve capacity.
"If support to female-led SMEs is included in the law, I believe that the goal of 35 per cent of firms being led by women entrepreneurs will be within reach," Lợi said.