The National Assembly on Wednesday debated the public's complaints and petitions after listening to the latest reports of the Supreme People's Court, the Supreme People's Procuracy and the Government Inspectorate.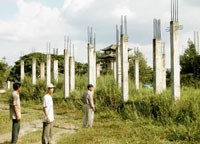 A revoked land area waits for construction in Ho Chi Minh City (Photo: VietnamNet)

The reports showed that the number of complainants is on the rise; hundreds of people from some localities even flocked to central leaders' residence for grievance.

Head of the Government Inspectorate Tran Van Truyen said over 80 percent of complaints and denunciations stemmed from land-related issues such as irrational land compensation for recovering land or clearing sites for suspended projects and land corruption cases involved local officials.

In many cases, he added, the fact that the local authorities did not thoroughly solved the massive claims had led to the public seeking resolutions from higher ranking agencies.
In an effort to deal with the problem, the government has assigned 13 inspections teams to localities with high records of denunciations and complaints.

Most NA deputies agreed that people are complaining about the irrational land compensation rates because the rates are subject to frequent changes and vary from one locality to another.

They stressed the main reason for the rise in complainants was caused by the fact that many localities did not make their implementation of land-related policies transparent, or offer the public a chance to discuss projects that directly affect their lives.
Moreover, the way the local authorities have dealt with those cases were still inconsistent, and some land-corrupted officials have not been punished strictly.

Some legislators said many leaders are indifferent to the public's concerns and inflexible in dealing with complaints.

Binh Phuoc province's NA deputy stressed the need to publicize land-use planning in order to ensure transparency in land policies.

Deputy Nguyen Minh Thuyet of Lang Son province proposed that the government establish a court in each region rather than put denunciations and complaints on local trials.