HA NOI (VNS)— National Assembly deputies yesterday agreed that the retirement insurance policy needed be adjusted.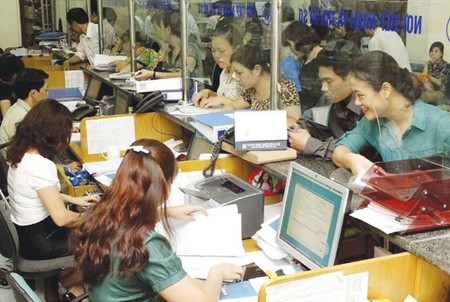 Employees of Ha Noi Social Insurance receive insurance documents from clients. National Assembly deputies agree that the retirement insurance policy needs to to be adjusted to ensure benefits for all. — VNA/VNS Phto Duong Ngoc
They said this could be mainly done by raising the retirement age of workers from 55 for women and 60 for men, thus raising the periods for collecting social insurance payments.
They also discussed the possibility that Social Insurance may not be able to make full payments to all retired citizens by 2034.
The deputies were talking at the 27th session of the National Assembly's Standing Committee.
They agreed that the collection of social insurance payments would not be sufficient to keep making payments if the retirement age remained the same.
They said that the current retirement ages were lower than in many countries in the region and the world.
Some deputies said that if public participation in social insurance was increased either voluntarily or compulsorily, pensions could continue beyond 2034.
The deputies also debated if the Social Insurance Agency should be given the power to inspect companies that violated payment rules. At present, this is the sole responsibility of the Ministry of Labour, Invalids and Social Affairs (MoLISA).
Some said things would become more efficient if the agency was given the power.
NA Vice Chairman Uong Chu Luu, however, said if the agency was authorised to inspect, then which of the two State units would handle complaints?
He said MoLISA's inspection unit might establish its own office specialising in checking on social insurance payments.
Earlier yesterday, lawmakers agreed the National Assembly would focus its surveillance programmes on the effect of Official Development Assistance for socio-economic development, the implementation of policies and laws on land use and management of State-owned farms.