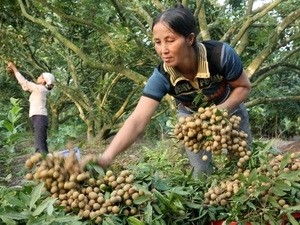 Vietnam News Agency file photo shows longan harvest in northern Vietnam
The National Assembly on Nov. 8 adopted a resolution on the five-year socio-economic plan for the 2011-2015 period with 10 economic, eight social and two environmental targets.
Under the plan, the NA set a target for GDP growth of 6.5-7 percent while ensuring that social investment represents around 33.5-35 percent of GDP.
By 2015, the trade deficit should be less than 10 percent of export value; with the State budget deficit below 4.5 percent and public debt no more than 65 percent of the country's GDP.
The plan sets targets of providing jobs for 8 million people and reducing the unemployment rate in urban areas to less than 4 percent.
It also aims to reduce the poverty rate by 2 percent every year.
The NA approved nine orientations and solutions for socio-economic development in the 2011-2015 period.
They include restructuring investment – focusing on public investment – the commercial banking system and financial organisations and economic groups and State corporations.
In addition, inflation control and the stabilisation of the macro-economy and the currency will be maintained through synchronous and persistent implementation of financial policy and control of the trade deficit.