Political leaders joined war veterans, serving military officers and members of the public in Ho Chi Minh City on Sunday, the 62nd National Day, to burn incense in honor of the late revolutionary leader Ho Chi Minh.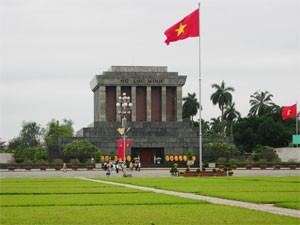 Ho Chi Minh Mausoleum (Photo: Thuy Hang)

Among the thousands of people present at the annual ceremony were Deputy Prime Minister Nguyen Thien Nhan, HCMC party chief Le Thanh Hai and HCMC People's Council chairwoman Pham Phuong Thao.

They were there to recall the significance of the August Revolution and National Day, and the sacred will that Ho Chi Minh had left for the entire communist party and the people of Viet Nam.

Also yesterday, the Ho Chi Minh Museum received many written documents, photos and paintings of President Ho Chi Minh from the private collections of musicians and artists. Over the past two years, the museum has received 176 items to augment its collection of Ho Chi Minh memorabilia.

It was busy in the streets too. All the roads leading to the Ho Chi Minh Mausoleum in Ha Noi were congested as thousands of people from all over converged to pay tribute to their dead leader.

The mausoleum's management said the big crowds were the norm every National Day and noted that the number of visitors had once reached 25,000 in a single day.