The 64th anniversary of War Invalids and Martyrs' Day was commemorated on July 25 throughout the country with a series of well planned events aimed at honoring the families of martyrs, wounded soldiers and social beneficiaries.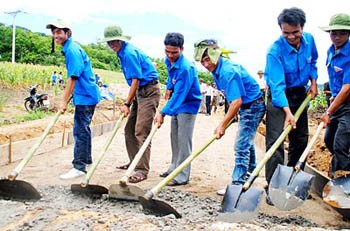 Young volunteers from Gia Lai Province participate in street construction (Photo: SGGP)
Truong Tan Sang, senior politburo member visited the family of soldier Bui Quang Phuc in Lai Hamlet of Tay Phong Commune in Cao Phong District in Hoa Binh Province and soldier Bui Van Non in De Hamlet of Bac Phong Commune and his mother, 87 year old Nguyen Thi Thuan in Tan Hoa Ward of Hoa Binh City. Later Sang spoke to province officials, asking them to keep up the good work of caring for the social beneficiaries, especially those living in remote areas, as a tribute to their sacrifices in the past two wars of the country's independence.
On the same day, the People's Army Newspaper, the Vietnam Martyrs' Family Support Association, the provincial Party and the People's Committee, commemorated the death of 10 female Youth Volunteers of Squad 4-C552 in Ha Tinh on July 24, 1968. Jointly they organized a musical concert "Lullaby of Comrades" at the Victory Cenotaph in the National Historic Monument of Dong Loc Junction in Can Loc District in the central province of Ha Tinh.
The program contained songs and documentary clips of the American war and was a vivid reminder of the painful days of the war. War veterans from the Dong Loc Junction troops, soldiers of Brigade E210, war heroine La Thi Tam, soldier-driver Tran Giang San, communication soldier Tran Thi Thanh and musician Doan Nho were present to share their experiences.
Earlier the organizers had presented gifts worth VND100 million (approx. US$4,880), to social beneficiaries in Dong Loc, My Loc and Xuan Loc Communes in Can Loc District.
In Hanoi, the National Institute of Hematology and Blood Transfusion, the Hanoi Association of Youth Blood Donor Recruiter and the Air Force Museum, organized a blood donation camp entitled, "A Heart – A Heroic Flame". More than 300 doctors, nurses, officials and patients' families participated.
The HCMC Civil-Political-Party Standing Committee and The HCM Communist Youth Union of Hoc Mon District of Ho Chi Minh City presented 30 packages of gift items, each worth VND300,000 (US$15) to local social beneficiaries and poor families. 103 packages, each worth VND200, 000 ($10) were also presented to local poor students who had excelled in their studies in the Tan Xuan commune of the district.
The HCM Communist Youth Union of the highland province of Gia Lai has also just begun a youth project to build a street leading to the revolutionary base of the 10th Area in K'Roong Commune of K'Bang District, which is 3km long and 5m wide, costing nearly VND4.5 billion (approx. $219,500). The street will connect the K'Roong Ward People's Committee Office with the Tung and Gut Hamlets and provide better traffic facilities as well as contribute to the economic and social development of the area. It is expected to complete within 90 days.