The last meeting of the 21st session of the National Assembly's Standing Committee was wrapped up July 18 after discussing a number of important issues, including personnel for State audit agencies.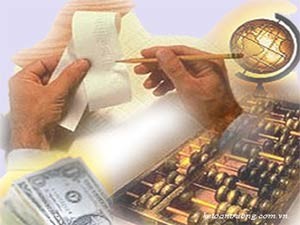 The number of State auditors needs to be raised sharply by 2015 to meet demand, according to a plan discussed by NA's Standing Committee on July 18. (Photo: ketoantruong.com.vn)
The committee discussed a proposed strategy for development of State audits by 2015, including a vision for 2020.
The operational scale of State auditing is modest compared with expectations for it, the delegates agreed.
The number of businesses audited by State agencies has increased in recent years, but it still remains a low percentage, many deputies said.
Even between 2007 and 2008, a boom time for State auditors, agencies covered only 50 percent of provinces and cities under direct management of central government, and just 30 percent of ministries and central agencies.
In those provinces, just 50 percent of districts were audited and in each district, only 2-3 communes underwent auditing.
On top of this, the quality of auditing remains low, leading to limited results.
One major reason blamed for the poor performance of State audit agencies is a lack of staff, the meeting agreed.
Therefore, the number of State auditors needs to be raised by up to three times by 2015 to adequately meet demand, according to the strategy.
By that time, about 30-40 percent of the country's total number of wards, communes and towns will be audited.
The NA Financial and Budgetary Committee said the plan to increase auditing staff should be mulled carefully, since the percentage of cases of those violating regulations on management of State budget and assets has tended to fall in recent years.
In addition, as a result of the re-arrangement of State-owned groups, corporations and companies, the share of the State in the total investment of those entities has decreased, the Committee said.
It also said the strategy should be envisaged for a longer period, not just by 2015, and be more suited to the national strategy for social and economic development.