Lawmakers yesterday discussed the feasibility of applying compulsory health insurance for all citizens to achieve the target of national insurance coverage at the sixth session of the 13th National Assembly.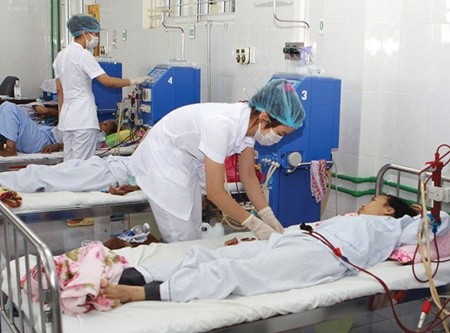 Doctors check up on patients at the Lao Cai General Hospital. — VNA/VNS Photo Nguyen Thuy
Ma Dien Cu, a National Assembly deputy from the central province of Quang Ngai and Phuong Thi Thanh from northern Bac Kan Province both said that health insurance should be made compulsory to raise a sense of responsibility within the community.
They said if the voluntary health insurance policy continued, it would be difficult to realise the target of achieving national health insurance coverage by 2020 as planned.
Deputies pointed out that the draft revised Health Insurance Law stipulated compulsory health insurance, but there were no regulations about fines for those who refused to register.
Nguyen Thi Phuc, a deputy from central Binh Thuan Province, stressed the need of such a regulation to make the law truly effective.
Some deputies, however, still questioned the feasibility of a compulsory policy. Among them, Nguyen Thi Bich Nhiem from the northern province of Yen Bai pointed out that only 28 per cent of those participating in the policy voluntarily did so without support from the Government.
Pham Thi Thu Hong from Binh Dinh said that health insurance was not appealing enough to citizens, and total national health insurance coverage had so far reached only 67 per cent. Most of those insured received support from the Government, she added.
NA deputies also approved the revised Law on Thrift Practice and Waste Prevention with a majority 87 per cent vote.
Reforming family law
Yesterday morning, lawmakers agreed that the Law on Marriage and Family should be revised to handle previous shortcomings during.
Most deputies agreed that the bill should reflect the legal marriage age of 18 years old and above for all men and women.
Deputies Nguyen Van Tuyet from southern Ba Ria- Vung Tau Province and Ho Thi Thuy from northern Vinh Phuc Province said that marriage and family regulations should be synchronous with relevant regulations of the Civil Code and Civil Procedures Code in recognising, implementing and protecting individual's civil rights.
"Along with the country's socio-economic development, the quality of life has improved remarkably since the law was first issued in 2000. Reducing the marriage age for men from 20 to 18 years old is appropriate with the physical and spiritual conditions of Vietnamese youths," said Tuyet.
Deputy Tuyet said that lowering the marriage age for men would not encourage early marriage because the average marriage age of both men and women was higher than the marriage age regulated by the law, according to the 2009 population and housing census.
Some deputies said that regulations on the marriage age of 18 years old and above would ensure Viet Nam's international commitments on gender equality.
The bill also replaced regulations on prohibiting marriage between same sex couples, but stated that the State did not recognise same sex marriages as legally binding.
Some deputies said that regulations should be added to handle issues arising from same sex couples living together, and even organising public wedding ceremonies.
The bill also permits surrogacy for humanitarian reasons, but prohibits surrogacy for commercial purposes.
Deputies said that surrogacy for humanitarian purpose would create conditions for couples who were unable to have children by themselves to start a family.
They also said it would need to be closely monitored to protect the rights of women and children and to stop surrogacy being used for commercial purposes or child trafficking. On the same day, deputies also passed the revised bidding law.