Leasing forestland to foreign investors for purposes of afforestation was the hot topic in the National Assembly's question-answer session for the Minister of Agriculture and Rural Development on June 11.
There were some contradictory figures released at the session on how much forestland has been leased to foreign companies and how many provinces have involved in the leasing.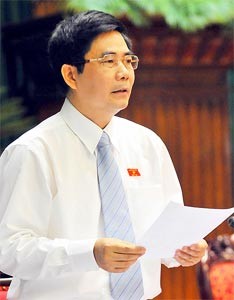 Agriculture and Rural Development Minister Cao Duc Phat speaks at the NA's question-answer session in Hanoi on July 11
305,000 or nearly 400,000 hectares leased?
Citing a report from his ministry, agriculture minister Cao Duc Phat said 11 foreign companies had obtained approval for their afforestation projects in 10 provinces.
He said 10 cities and provinces across the country have approved projects with a combined area of 305,353 ha, but they have to date handed over just 15,644 ha to the investors under 50-year contracts.
However, Deputy Le Quang Binh, Chairman of the National Assembly's Committee for National Defense and Security, did not agreed with the figure as reported by the minister, citing the committee's own surveys that show up to 398,374 ha had been committed to 19 foreign-invested forestation projects in 18 provinces.
Most of the licensed land is located in areas that are important to the nation's national defense and security while others are riverhead or protective forests, Mr. Binh said.
Deputy Le Nhu Tien from Quang Tri Province said: "The leasing of forestland can meet investment regulations, but does it satisfy requirements related to national defense and security?"
He said: "Although province-level governments have the right to grant such certificates, as the leader of a relevant ministry, what are your responsibilities in this field?"
"The ministry made inspections in a number of provinces and found that local authorities had generally complied with regulations on land-leasing," Mr. Phat replied.
He also explained that the granting of investment certificates should not be interpreted that all the forestlands indicated in certificates have been allocated to investors. "Only when the investors meet all necessary requirements can the land be granted to them."
However, he admitted that some provinces granted investment certificates only based on preliminary surveys and assessments.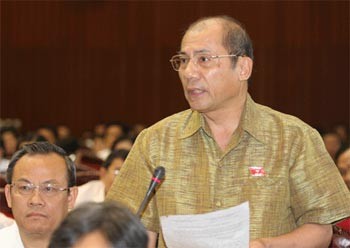 Chairman of the NA's Committee for Defense and Security, Le Quang Binh, voices his opinions against the leasing of forestland to foreign investors (Photo: VnEconomy)
Planning and Investment Minister Vo Hong Phuc commented: "A big shortcoming in leasing forestland to foreign investor is that many projects are located in areas that are important in terms of national defense. My opinion is that forestation projects that are unfeasible or unsuitable or sensitive in terms of defense and security must be cancelled."
Minister Phuc also mentioned about the grant of forestland in large quantities to a single investor. "Taiwan's InnovGreen Co. alone has been granted as much as over 264,000 hectares. A single company is unlikely to have enough capability to develop such a huge project."
Phuc assured the legislators that his ministry will review the licensing of forestation projects in provinces. The licensing must be based on different laws such as the Enterprise Law, the Land Law, the National Defense Law and the NA's Resolution No. 66, he said.