The National Assembly's Standing Committee has decided not to include taxes on dwelling houses in the Bill on House and Land Tax, which was discussed by NA deputies at their May 25 meeting in Hanoi, as part of the seventh session of the NA.
Most NA deputies agreed with the decision, considering it reasonable.
Deputy Nguyen Duy Huu, of Dak Lak Province, welcomed the decision, saying that voters had expected such actions when he met them before this session.
Given that the economy has yet to stabilize, a tax on dwelling houses would place a heavy financial burden on a large segment of the population.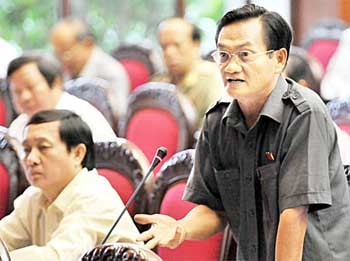 Dr Tran Du Lich, a NA deputy from HCMC, speaks at the May 25 meeting of the NA in Hanoi (Photo: SGGP)
Dr. Tran Du Lich from Ho Chi Minh City, said, "The law must be a financial instrument to prevent speculation of land and houses and contribute to maintaining social security. If this is not done, we will fail to meet the law's objectives."
He emphasized that "the tax should not be levied on those having only one house or plot of land, but it should levy on those with a lot of such properties."
 
Dr. Lich also made three proposals.
First, there is no need to change the name of the existing bill to "Bill on Non-Farming Land Use Tax," as was suggested by the NA Standing Committee, arguing that the bill should be an amended version of the existing Ordinance on Houses and Land Tax.
Second, he called for an immediate investigation into the actual situation within the real estate market, to determine if utilization of land resources is optimal. 
Lastly, Dr. Lich called for measures that would prevent land from going unused or occupied illegally.
 
The two last proposals are aimed at preventing real estate prices from skyrocketing uncontrollably, beyond the reach of ordinary people.
Le Quoc Dung, from Thai Binh Province, said, "The bill has yet to meet our aims of fighting land speculation and lowering land prices. We should review what we expect from the bill so that we can prefect it."
 
"The bill is very crucial for moderating land prices," he added.
It is unreasonable for taxation to be made based on the area of land showed in the certificates of land usage rights, as stipulated in the bill, said many deputies. They pointed out that in many cases the actual area of land in use is larger than that indicated in such certificates. 
That is because many people have occupied land illegally, they explained.
Deputies argued that under prevailing regulation, a tax must be levied on the actual area of land in use, not on the acreage showed in certificates of land usage rights.
 
NA deputy chairman Nguyen Duc Kien said the legislature would launch a referendum among NA deputies about some important issues related to the bill to perfect it before it is passed by the NA.