Due to the increasing number of unsolved complaints, a consulting team will be established to help consider and resolve each case in a lawful, just manner.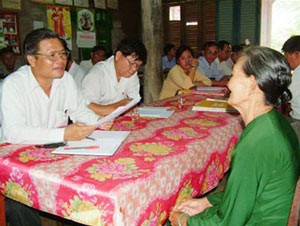 A local official talks to a complainant
Ho Chi Minh City's 12th National Assembly (NA) deputies came to an agreement on this year's supervising work and gathered reports on people's complaints given to HCMC's 11th NA deputies yesterday.

According to Mr. Huynh Thanh Lap, Deputy Head of the NA deputies, about 22 complicated, time-consuming complaints still remain for the NA deputies to personally handle.

Most of the cases have been settled by relevant agencies and officials, but the complainants are not satisfied with the outcomes. A typical example is the case of Binh Tri Dong Ward Veteran Association and its request that local officials reconsider the decision to give 10,000 square meters of land to Mr. Nguyen Van Tinh.

NA deputies have said that should complainants still receive unjust treatment even after the ultimate decisions have been made, NA deputies must take action to protect their people.

HCMC's NA deputies will join a supervising team from the NA Standing Committee to work on the application of policies on land clearance compensation, land revocation, and certificates on land use rights.

HCMC's NA deputies will also supervise the city People's Committees concerning their management of social policies and charity funds.

The team of consultants will be established by the HCMC Lawyers Association, the HCMC People's Court, and the HCMC Youth Union.