National Assembly deputies yesterday said appropriate measures were needed to help the economy regain high growth.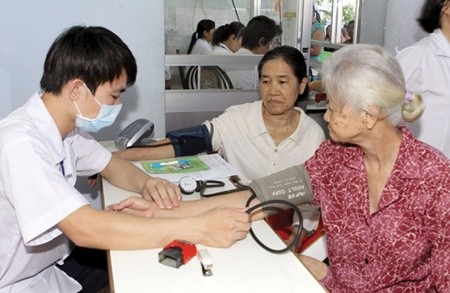 Senior citizens receive health checks at the District 3 Hospital in HCM City. National Assembly deputies say high growth rates will help improve provision of social services nation-wide. – VNA/VNS Photo Phuong Vy.
The deputies were discussing the country's socio-economic situation at the NA's plenary sitting.
According to a Government report, the economy grew by 5.62 per cent during the first nine months this year, higher than the same period last year. The figure is expected to reach 5.8 per cent for the whole year.
Meanwhile, inflation declined to 2.25 per cent in the nine-month period, the lowest in 10 years, the report said, adding that the figure was expected to be less than 5 per cent all year.
The deputies spoke highly of Government management amid many difficulties. They said that with the help of the business community and the public, the economy continued to make positive changes.
However, many said difficulties remained, particularly in production and trade. Businesses still found it hard to get access to credit and a large number had ceased operating.
The deputies also focused on increasing public debt and bad debt, saying that these two problems were being handled slowly. The mobilisation of different resources for development investment also failed to meet real demand.
Deputy Nguyen Cao Son from the northern province of Hoa Binh expressed concern about the unemployment rate of students after graduation, the rise in crime and difficult living conditions for residents in rural, remote and mountainous areas.
He proposed the Government ask the NA for permission to issue more bonds for investment in infrastructure.
Many deputies said the Government should reform ineffective projects and programmes to provide more funds for poverty reduction and greater investment in much-needed social welfare services including healthcare and education.
Deputy Vu Ngoc Dien from the central province of Binh Thuan suggested the Government adopt measures to help promote the sea-born economy.
Many deputies also proposed the Government continue working to tackle difficulties for businesses and residents. This would include promptly implementing policies relating to tax and simplifying procedures to help businesses get better access to credit.
Deputy Tran Hoang Ngan from HCM City said it was essential to have comprehensive measures to promote local production. Providing businesses with interest rate support was needed to help them invest more in equipment and renewing technology.
Some deputies said there should be more regulations on the management and use of Official Development Assistance (ODA) to ensure efficiency.
Deputy Le Thi Nga from the northern province of Thai Nguyen said lack of management over a number of ODA-funded projects led to violations and thus reduced the country's prestige.
She said it was necessary to publicise ODA-used projects and have regulations to help NA deputies and people take part in supervising projects.
During the afternoon session, many deputies suggested the Government pay more attention to investment and handling difficulties for agriculture and help improve the living conditions of farmers.
They said the Government needed to have measures to help tap the potential and strength of each locality, focusing on increasing competitiveness of farm produce and promoting the application of information technology in agricultural production, particularly during the post-harvest period.
Deputy Le Dinh Khanh from the northern province of Hai Duong said the Ministry of Agriculture and Rural Development needed to focus on developing more varieties of crops, plants and animals to help reduce the cost of imports.
Many deputies proposed the Government take measures to keep public debt under better control as well as to deal with bad debt.
Deputy Tran Xuan Vinh from the central province of Quang Nam said it was essential to increase inspection and supervision of bank loans for investment projects to help reduce bad debt.
The deputies will continue to discuss the country's socio-economic situation during today's session.