The National Assembly of Vietnam's Standing Committee Wednesday discussed the denouncement bill, questioning role of organizations in denouncement and legality of anonymous denouncement letters.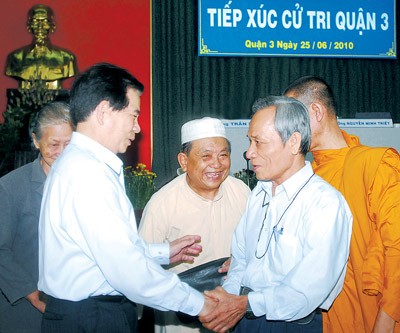 President Nguyen Minh Triet meets voters in district 3, HCM City on June 25, 2010. Voters can send denouncement letters to authorities or directly censure corrupt officials to leaders.
Although the Government recorded different opinions on role of organizations in denouncement, its guided directed the committee's attention to denouncement subject of individuals including foreigners.
Supporting governmental opinion, Deputy of General Chief of inspectors Tran Duc Luong, representing the Law Drafting Committee said that in theory organizations would have rights to denouncement, in reality, however, resolving role of organizations in denouncement was very difficult.
It is difficult to lay the blame on somebody when organizations denouncement is wrong or take advantages of denouncement to slander someone, said Mr. Luong
As a result, we can only accept role of individuals in denouncement, he added.
Mr. Ksor Phuoc , the head of NA Council for Ethnic Minority Groups, said the law should accept role of organizations in denouncement if its contents had good reason and its representative who signed denouncement letters was responsible to directly work with and provide information to the authorities.
One of the controlversal terms in the bill is anonymous denouncement letters. Current legal documents and law on denouncement and complaint rule that denouncement letters must be signed and denouncer's address must be written down in letters. They also say that authorities don't resolve anonymous denouncement.
Actually, there are a lot of anonymous denouncement letters because the laws do not have mechanism to protect denouncers.
The Law Drafting Committee has added a new chapter in the bill, offering measures to protect denouncers.
Some of NA Standing Committee's members explained that there were a few cases in which denouncers were not shielded by authorities. Correspondingly, complainers did not dare to write down their names and address because they were afraid that they might be victimized.
In order to ensure justice for two parties: denouncer and accused, Mr. Nguyen Van Thuan, the head of the Law Committee suggested imposing strict punishment on "snakes on the grass" with defining denouncers' responsibility.