Vietnam always welcomes US businesses to invest and do business in the country, said National Assembly Chairman Nguyen Sinh Hung Monday.
He made the affirmation while receiving President pro Tem of the California State Senate Darrell Steinberg in Hanoi.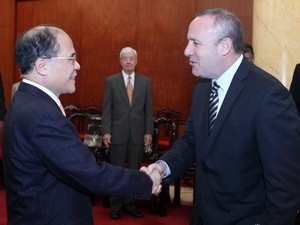 Vietnamese NA Chairman Nguyen Sinh Hung (L) receives President pro Tem of the California State Senate Darrell Steinberg (Photo: Vietnam News Agency)
Hung expressed joy at fine developments of the Vietnam-US relations and the two sides' efforts to bring the relationship to a higher level.
He said he believes that the relations between Vietnam and the US in general and California in particular will further develop after the visit, adding that California is home to many Vietnamese people and has close ties with Vietnam.
Vietnam and the US have overcome barriers of the past and are looking towards a closer and more sustainable cooperation in all socio-economic aspects, Chairman Hung said.
According to the top Vietnamese legislator, the war-torn country of Vietnam is attempting to implement a renewal process, focusing on strengthening ties with countries, territories and regions throughout the world.
The normalisation of relations and the signing of a bilateral trade agreement with the US are a gigantic progress in bilateral ties, laying a firm foundation for the two sides to boost trade and import-export, he stressed.
Hung suggested the two sides further strengthen cooperation in electricity, telecommunications, information technology, wharves, airports, hi-tech, mechanical engineering, chemicals, education and training, and human resource development.
The California State Senate President said the visit has left good impressions of the land and people of Vietnam on each member of his delegation, adding that the Vietnamese people always Endeavour to boost national development, international integration and relations with foreign partners, including the US.
Many California entrepreneurs wish to seek business and investment opportunities in Vietnam as the country is showing its political stability and strong economic development, he stressed.
On the same day, the California State Senate delegation was received by Deputy Prime Minister Vu Van Ninh.