Born in 1963, Dam was schooled in Belgium and was a secretary for late former prime minister Vo Van Kiet.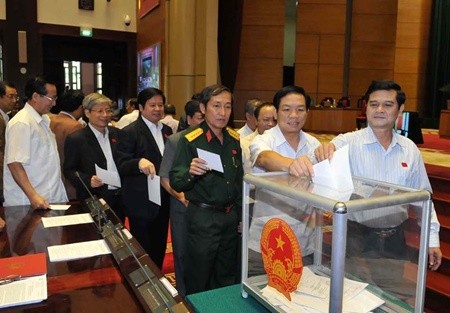 In the morning session, the NA voted to officially remove incumbent Deputy PM Nguyen Thien Nhan. — VNA/VNS Photo Phuong Hoa
Later the same day, lawmakers discussed the draft Notary Law, agreeing it was necessary to revise the current Notary Law to limit its shortcomings and improve State management of notary activities.
Relating to notary staff, many deputies agreed regulation was needed to lift their quality. However, deputy Nguyen Minh Lam from southern Long An Province, said additional research was needed to substantiate regulations on lengthening training periods for notary staff by six months and the retirement age to 65.
Most deputies also agreed with the policy to encourage the establishment of professional social organisations to support State agencies in managing notary activities.
However, deputies Nguyen Xuan Thuy from northern Phu Tho Province, To Van Tam from Central Highlands Kon Tum Province and Dinh Xuan Thao from Ha Noi, said the establishment of such organisations need to be based on notary demand to protect rights.
Speaking to regulation on notary training exemptions for certain groups of notary staff, many deputies said the draft regulation was out of touch with reality.
Deputy To Van Tam from Ha Noi said the actual number of substandard notary workers stemmed from groups exempted from notary training.
He proposed the compiling board to review proposals to limit the number of people exempted from notary training to ensure basic qualifications were being met.
On the same day, the deputies also heard an inspection report on draft amendments to the Law on Inland Waterway Traffic.