Ho Chi Minh City discharges on an average at least 5,000-6,000 tons of mud waste every single day, most of which is hardly ever treated.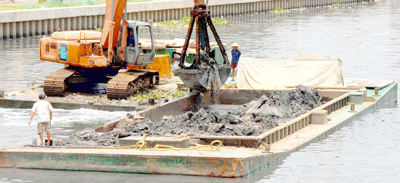 Mud being dredged from canals (Photo: SGGP)
According to Nguyen Trung Viet, head of the solid waste management division under the Department of Natural Resources and Environment in HCMC, mud waste is being discharged from households, industrial wastewater, canal dredging, cesspits and construction sites.
Mud waste being released in the City on a daily basis is about 5,000-6,000 tons, not including mud from water treatment plants.
The City now has two wastewater treatment plants -- the Binh Hung Hoa and Binh Hung plants, which have facilities to dry mud and reduce mud humidity by 30-40 percent.
This is not the case with thousands of wastewater treatment stations in the City which are recycling household mud waste.
The City has no financial resources to treat mud waste discharged from the drainage system and from canal dredging, which could cost a further VND1 trillion (US$48 million) a year.
Only cesspit mud is being collected to make fertilizer, while other forms of mud waste is being either treated or discharged into garbage dumps or to unknown locations.
Mud from water treatment plants is either being released into the environment or kept in reservoirs to later separate into water and mud. The mud residue is then transported to unknown locations.
Mud from construction sites was discarded into the Dong Thanh garbage dump before 2007, but now with this dump site shut down, the mud waste is being taken to undisclosed locations.