Vietnamese PM Nguyen Tan Dung Friday held talks with Mozambique visiting PM Aires Bonifacio Baptista Ali.
The Vietnamese PM warmly welcomed the Mozambique PM and delegation members and stressed that the visit was an evidence for the traditional political relationship between the two countries.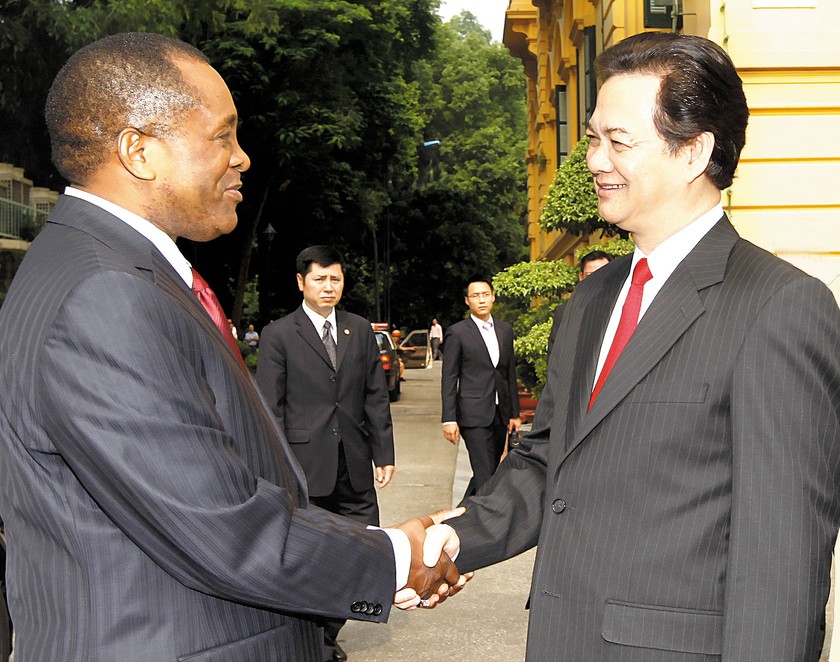 Vietnamese PM Nguyen Tan Dung shakes hands with Mozambique PM Aires Bonifacio Baptista Ali at the welcome ceremony in Hanoi on Sep. 3, 2010. (Photo: VNA)
the visit coinciding with the Vietnamese National Day and the 35th anniversary of Vietnam- Mozambique diplomatic establishment shows the traditional political relations between the two countries" said PM Nguyen Tan Dung.
The Mozambique expressed his happiness to visit heroic and hospitable Vietnam and witness its achievements in renovation and development process.
The Mozambique PM praised results of cooperative programs in investment, trade, agriculture, healthcare, education… and hoped that the two countries would raise economic relations to the same level with the political relations.
In order to reach that goal, Mozambique will open door for Vietnamese enterprises to develop trade and investment, said PM Aires Bonifacio Baptista Ali.
Vietnamese PM Nguyen Tan Dung affirmed Vietnamese appreciated, enhanced and developed relations with African traditional friends as well as Mozambique.
We are ready to share experience on economic development, infrastructure construction, education, healthcare…esp. on agricultural development and the fight against poverty, said Mr. Dung.
After the talks, the two prime ministers witnessed the signing of the Agreement on Double Tax between two countries' ministers of finance.
On the same day, Party's General Secretary Nong Duc Manh and State President Nguyen Minh Triet held talks with the Mozambique PM.
At the talk with the Party Chief, the Mozambique PM said that his country was ready to be a bridge between Vietnam and Africa.
Speaking with the President, the Mozambique PM appreciated achievements of Vietnam in economic and social development and in reaching the Millennium Goals issued by the UN and the anti-poverty fight. Vietnam's experience is valuable lessons for Mozambique.
Before visiting to Hanoi, the Mozambique PM held talks with Ho Chi Minh City Chairman Le Hoang Quan and visited Mekong Delta Province of Tien Giang which is developing good agriculture practice, expanding fishery farms and food processing factories…