Two more fishing boats suffered mechanical failure on Sunday morning and lost contact with the mainland, as they got caught in the tropical low pressure system operating north of Truong Sa (Spratly) Islands and severe northeasterly winds.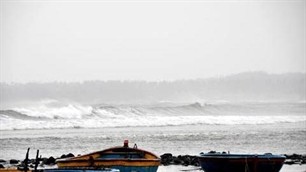 Quang Ngai Province coastline being lashed with wind gales of 39-61 kilometres an hour (Source: VOV)
On Sunday morning, a fishing boat with seven men on board along with its owner Le Thanh Binh, from Hoai Nhon District of Binh Dinh Province, broke down while at sea about 120 sea miles off the province coastline, resulting in the boat losing all radio communication with the mainland and went adrift.
The same day, another boat belonging to Tran Liem Manh from Quy Nhon town of Binh Dinh Province also broke down 136 sea miles off the Khanh Hoa Province coastline. Soon after the captain sent out a distress signal, the boat with 11 fishermen on board lost all radio contact.
Meanwhile, Military Headquarters in Quang Ngai Province have reported that all nine fishermen that were stranded on the boat belonging to Bui Viet Anh on February 17 have been rescued. 
All the nine fishermen were rescued by a Philipino vessel and will return to Vietnam as soon as necessary procedures are complete.
At 10 am on Sunday, three fishermen were hurt after their boat was overturned by high waves in Tuy An District of Phu Yen Province, but all three were rescued in time by local residents and army soldiers.
Tropical depression may weaken by Wednesday

The National Hydro Meteorological Forecasting Centre has forecast that the tropical low pressure system operating north of Truong Sa (Spratly) Islands will abate into a low pressure zone within the next one or two days.

By 7 am on Monday, the system was centered 90 kilometres north of the Truong Sa Islands, with strongest winds near its eye reaching level 6-7, moving at 39-61 kilometres an hour.

In the next 24 hours, the tropical depression will slowly move west and southwestwards at five kilometres an hour. By 7 am tomorrow, it will locate about 110 kilometres west northwest of the Islands. Wind gales are likely to reduce slightly.

The system's direction will remain unchanged with speed of 5-10 kilometres an hour and later may weaken into a low pressure zone by Wednesday.
 
Related article:
Tens of fishermen rescued from rough sea in central region