Reports on Monday from Quang Ngai Province confirmed 15 people dead, four missing and 19 injured from the devastating floods in the region.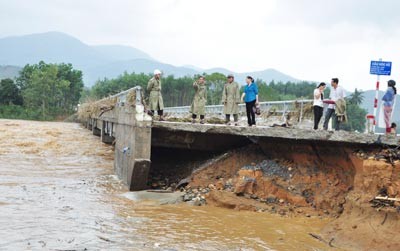 Hoc Ke Bridge in Ba To District in Quang Ngai is damaged by the flood. (Photo: SGGP)
Heavy rains and flooding also destroyed or blew off roofs of 502 houses, schools and medical centers. Landslides occurred in many places, mostly in the mountainous districts and thousands of hectares of rice and vegetables are still inundated under floodwaters.
More cause for alarm are at present 117 water reservoirs in Quang Ngai Province that are at full capacity, threatening low lying areas.
Due to weak foundation, roads in the mountainous regions could slip at any time. For this reason, Tra Bong authority has done immediate evacuation of 210 households from danger zones and 256 households from highly flooded areas. Landslides have buried three houses and damaged roads, cutting off some rural areas. Road 622 from Tra Bong to Tay Tra District has landslides in seven spots, causing heavy traffic gridlock.
Quang Ngai Province has dispatched 30 tons of rice to help flood victims and has asked the Government to provide 2,000 tons of rice as emergency food aid. The Health Department in the province and the Ministry of Health are also providing flood victims with medicines and chemicals to disinfect potable water.
In related news, Binh Dinh Province has reported 16 people dead and one missing. Six houses have collapsed, 84 houses have been damaged, along with 98,095 houses flooded, 158 classrooms damaged and 95 hectares of rice totally lost.
Walls of six reservoirs in the province are badly eroded and roads and bridges seriously damaged. Industrial zones have also suffered huge devastation as floodwaters have inundated machinery in factories and goods in warehouses. Total loss in Binh Dinh Province is estimated at nearly VND2 trillion.