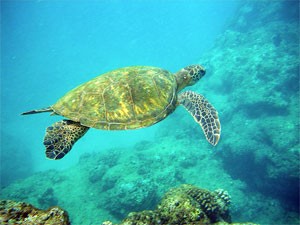 Green sea turtle
Viet Nam has officially launched a monitoring operation on the population of green sea turtles living in Con Dao Island via satellite after a successful experiment.
"The transmitters attached on three individual green sea turtles have still provided information about their locations and routes after one month of trial" Le Xuan Ai, director of the Con Dao National Park says.
Monitoring via satellite has offered conservationists a better look on how green sea turtles search for food and breed, and where their migrating route is. Therefore, they can opt for suitable approaches to protect the sea turtles.
This cutting-edge satellite supervision operated in Viet Nam for the first time ever has strengthened the protection of sea turtle's breeding grounds in Con Dao National Park, the most important breeding ground of sea turtles nationwide.
The Con Dao National Park was established in 1977, but protection extended only to the flora and fauna on land. The park now covers fourteen of the sixteen islands and their surrounding marine areas.

The forest coverage on the islands is dense: a sizable proportion is in pristine condition, particularly the humid hill forest growing 500m above sea level.

Even though control over the exploitative use of the sea was established as late as 1993, and despite the damage wreaked by the French, over a thousand hectares of Con Dao National Park's coral reefs survive in the shallow waters - a stark contrast to other areas of Vietnam that have low coral cover as a result of overexploitation, destructive fishing, and sedimentation.

The entire marine area is rich in biodiversity: over 1,300 species of sea animals have already been identified.

The ecosystems on Con Dao are favorable habitats for rare species such as the Hawksbill and Green Turtles, and Dugong, the strange creatures popularly known as 'sea cows' and believed to be the source of the 'mermaid' legends from their habit of sunbathing on rocks.