The Ministry of Industry and Trade will tighten inspections and force all reservoirs in the central region to seriously obey regulations related to reservoir operation.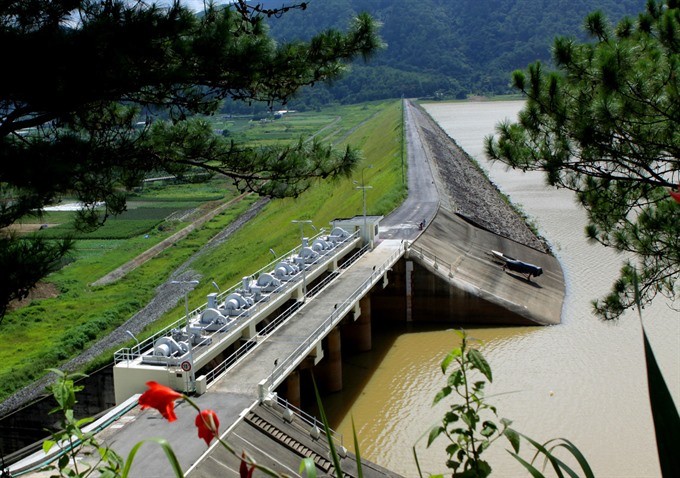 Đa Nhim - Hàm Thuận - Đa Mi Hydropower Plant always complies with reservoir operation regulations. VNA/VNS Ngọc Hà
If an incident occurs, responsibilities of relevant units would be clarified.

Deputy Minister Hoàng Quốc Vượng said the move came after lessons from the release of water by Hố Hô Hydro-power Plant during October's heavy rain, causing intensive flooding in central Hà Tĩnh and Quảng Bình provinces, reported by Tin tức (News) newspaper.

Although the release was believed to comply with the process of reservoir operations ensuring safety for dams and reservoirs in emergencies, the ministry found shortcomings in the management of the hydro-power plant's reservoir.

For example, the management board failed to assess situations that could arise in the event of flooding and heavy rain, the ministry said.

Additionally, the Hồ Bốn Hydropower Joint Stock Company, investor of Hố Hô hydro-power plant, failed to fully report to the ministry and People's Committee of Hà Tĩnh and Quảng Bình when the incident occurred.

Under the ministry's report, water was released by the hydro-power plant from 5.30pm on October 14 to 2am the next day, with a capacity of 192cu.m per second, increasing the water level in lowland areas. However, if the hydro-power plant did not release the water, with the prolonged torrential rain, the reservoir would be flooded and potentially incur heavy damage.

Phạm Hồng Giang, head of Việt Nam National Committee on Large Dams and Water Resources said that the failure of forecasting for torrential rain and floods caused the investor to release water to ensure the safety of its reservoir.

Giang said it was necessary to set up an agency to supervise water storage in hydro-power plants' reservoirs.

Forecasting needs to be improved so that investors have enough time to adjust water release, instead of the sudden decisions that lead to flooding in lowland areas, according to Giang.

In a related move, the Ministry of Natural Resources and Environment's Water Resources Management Department has piloted an online supervision system for reservoir operation. Initial results have shown the programme to be effective.

Hoàng Văn Bảy, head of the department, said a shortage of necessary tools to observe water levels in river basins, and to supervise the release of water in reservoirs were the biggest obstacles to the effectiveness of reservoir operation.

Statistics from the ministry showed that 21 hydro-power plants had been run in the central localities of Nghệ An, Hà Tĩnh, Quảng Bình, Quảng Trị and Thừa Thiên Huế.